Empire Office, an office furniture dealer, will now have more breathing room after agreeing to expand its presence at 105 Madison Avenue.
Cautiously optimistic officials at the furniture dealer will be taking 26,700 square feet of space on the 14th and 15th floors of 105 Madison Avenue, where asking rents average $47 a square foot.
The new space will now be folded into the 10-year lease that Empire Office signed in 2010.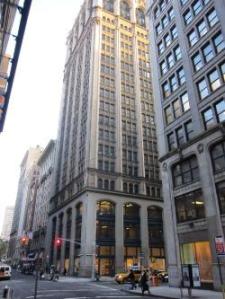 Paul Davidson of Newmark Knight Frank represented Empire Office in the deal. A&R Real Estate Inc., the landlords of 105 Madison Avenue, represented themselves in-house.
The new space will be folded into an existing 10-year lease that Empire signed in 2010 following a relocation from 387 Park Avenue.
The company broke out of its previous lease without having to pay any penalties, with the caveat that they left their old office space intact, officials said.
Empire Office made the move in the midst of economic downturn in its industry, and they had reduced themselves from the 27,000 square feet it had on Park Avenue down to initially 13,500 square feet in 105 Madison Avenue.
Ten months later, feeling comfortable in its new digs and in the company's future prospects for growth, the company tacked on 6,000 square feet for part of the 14th floor.
This new lease will give Empire the entire 14th floor for a total of 26,700 square feet, bringing them very close to what the previously had in its old office space.
Empire Office has space in Miramar, Florida, and has two warehouse spaces, one in Woodside, Queens for about 135,000 sq ft and another one in Flushing Ave, Brooklyn which is roughly equivalent in size. Both warehouses are company-owned.
As the company has brought on new clients, including those in health care and the tech/media sector, it has weathered a trying economic environment by bolstering business.
For instance, it has had 11 active media/tech companies, a big jump from the 3 companies it had worked with in that sector.
Three years ago in the higher education sector, the company grew from 2 accounts to over 40 today. Health care has grown equally as strong.
"These are clients we are getting business from day in and day out," said Richard Gulardo, the chief operating officer of Empire Office.
Its traditional clients, Fortune 500 firms that own millions of square feet in New York City, are now consolidating its office presence, driving these companies into more efficient space that it will need to refurbish to suit these new spaces.
105 Madison Avenue, located in the thick of Midtown South, also provided Empire Office an enviable proximity to architecture and technology firms.
"There is a lot of architectural design firms that are in this market," he said. "It made it easier for our sales staff as well as the architectural firms to visit us, but easier for the sales to get out and call them and work with them."
"There is a drive that's driving our business that is not by expansion but by this consolidation," he said.
The new space will continue to house its sales, design, and executive staffs.
"It will be more of a working showroom space for us."
Drosen@observer.com