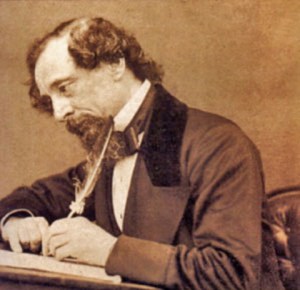 Today is Charles Dickens's 200th birthday. Or, more accurately, the 200th anniversary of his birth in Portsmouth, England (you know, he's dead and everything so it's not, like, a real birthday or whatever). So: how do we celebrate? Let's see. We could stage a dramatic reading of Bleak House in a busy town square, approximating (or likely failing miserably at approximating) Dickens's own famous public readings. Or: we could take a plane to London and walk the lengths of the city, compiling voracious mental notes and catalogs of urban life, which Dickens was known to do in preparation for writing a new novel. Or: we could listen to Suite No. 5 in E Major by the author's favorite composer George Frideric Handel, the final movement of which–"The Harmonious Blacksmith"–provided Pip with his nickname in Great Expectations.
Ugh, actually all of that sounds kind of taxing. Let's just go to the Morgan Library instead and see the Charles Dickens at 200 exhibition for free!
To mark the Dickens bicentennial, the museum is offering free admission. The show is only up until February 12, so you should probably skip out on work and go look at one of the most extensive collections of the author's letters and papers in the world. Or you could just watch the Masterpiece Theatre adaptation of David Copperfield, just like you did in college when you were too busy getting beer-drunk to do the actual reading but didn't want to be alienated in class or caught off guard and wanted to have some kind of slim grasp on plot and character development for when the professor called you out on your general ignorance. Not that any of us have ever done that or anything.