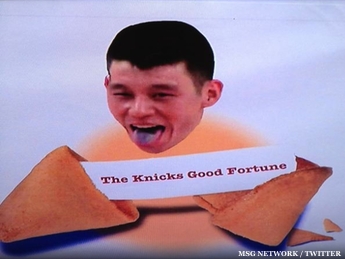 Here's one benefit of New York City not being able to get their fix of MSG TV: They aren't subject to what some perceive as the racially insensitive quality of their New York Knicks broadcasts.
Yahoo Sports' The Dish rounds up some of the reaction to the above image, broadcast after last night's Knicks game, which started flying around the internet after CNBC's Darren Rovell noted that the network was "walking a fine line" with it. The Sporting News called it "questionable." News networks and other newspapers, picking up on the outrage—exaggerated, realistic, or potential for it—are also chiming in with their own segments.
One blogger notes: "Hey MSG, he's a person. He's a real human with feelings. Maybe next time a little more discretion with your graphics, ok?" He then asks readers to buy his shirt advertising "THE YELLOW MAMBA."
Most of the posts fault MSG for creating the graphic. For their part, they note that they didn't actually make the graphic, a common misconception among reports: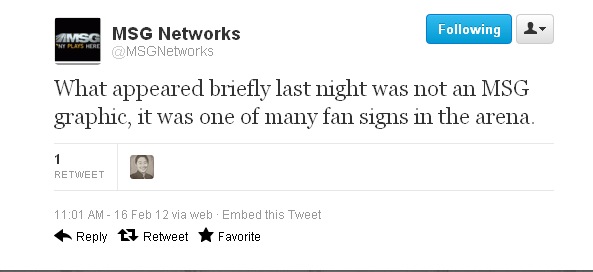 Given that's the only output from them on the matter (no press releases, either), This probably won't sate anybody.
The only take The Observer has found worthwhile in this instance, however, comes from Alexander Chee at The Classical, who registers his "shocked silence" at the graphic, but turns it around on a positive note towards the end:
There's a light coming off that giant horrible Fortune Cookie, and in it, you can see there are two games Lin is playing and winning—one is basketball, the other is the game the American media complex plays in making you think X about Asians. Winning one wins the other—he makes changing the world look as easy as playing ball. All that sad bullshit coming after him, the Jason Whitlock jokes, the "he's just getting attention because he's Asian" stuff, the Fortune Cookie graphics, it's all an attempt to put him back in his place, back behind the curtain, to make sure he doesn't really appear. And it's too late. Many people were making money off of the way things used to be—now they are making money off of the new way. Something in the power of his game has tipped the balance and the kid is money now, literally—he has the ratings on his side, the web traffic, the new army of fans, his team. This isn't an equal opportunity hire, no one at the Knicks did this to be nice to Asian people—the fortune cookie proves that. No, the people in the Skybox are getting paid. Lin has managed to make something bigger than their bullshit and he's riding it out from behind the stage.
fkamer@observer.com | @weareyourfek