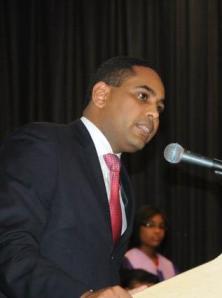 Assemblyman Nelson Castro sent out a statement yesterday evening urging fellow legislators to support his bill to allow the use of public school buildings for religious meetings and worship. As of February 12, religious organizations will be barred from using school property in New York City. Mr. Castro, who represents the 86th District in The Bronx, described this decision as "discriminatory."
"This issue is particularly affecting my district and my constituents. It is my responsibility to protect my community," Mr. Castro said.
Mr. Castro introduced the bill to stop the ban last month. On Tuesday, it was recommitted to the Committee on Education.
In his statement, Mr. Castro cited examples of two churches in his district, The Bronx Household of Faith and The Love Gospel Assembly, which have been affected by the policy.
"About a year and half ago, The Love Gospel Assembly burned down and needed suitable space for a limited time to accommodate a congregation of 500 hundred people. Due to this unconscious action, this church was denied a space in several schools in my districts," Mr. Castro said.
The Bronx Household of Faith appealed the city's decision in court, but a panel of federal judges ruled in favor of the New York City Board of Education that the ban didn't violate Freedom of Speech. Bronx Household of Faith attempted to take the issue all the way to the Supreme Court, which declined to hear their case.
Assemblyman Castro has been a vocal opponent of the plan to keep religious groups from using school buildings. Last weekend, he participated in a march across the Brooklyn Bridge protesting the ban.