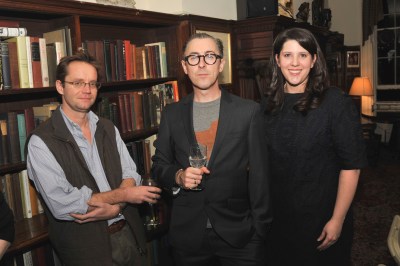 People keep coming up to me and telling me, "I didn't know Michael had a mother!" exclaimed Mrs. Riedel, proving once and for all that the famously divisive theater critic Michael Riedel was not hatched out of an  egg of searing criticism. We were discussing her son after the Theatre Communication Group's  Salon Evening at The Players club, which Mr. Riedel had moderated.
"I get that a lot," she smiled. We smiled back at our future mother-in-law.
Mr. Riedel cuts a controversial figure in the theater community: he's sourced up, reporting as much on backstage feuds as he does on the shows themselves. Rumors were swirling that the event–attended by no less great a figure than Liza Minnelli, and whose panelists included Alan Cumming, Charles Busch, Martha Lavey, and producer Jeffrey Richards–was actually spurned by several high-profile donors and actors because the Theater Talk host was moderating. By the end of the half-hour discussion, the whole audience had joined in on the debate over whose fault it was that Broadway tickets were so high. ("It's the producers!" someone shouted. "No, it's the theater owners!" pleaded Mr. Richards.)
So it was pretty ballsy (or perhaps a sly dig?) that Mr. Riedel's bio in the pamphlet for the event included the following sentence: "He will be playing himself–brilliantly!–on the upcoming series Smash." (The first episode of the show makes mention of his name, though he hasn't shown up to snark at the Marilyns quite yet.)
Considering his evisceration of the theater world, we had to stand up during the Q&A. "You've made a career out of judging other actors," we said. "Now that you're going to be performing –brilliantly–on Smash, are you worried about the reviews?"
"And if Smash goes to Broadway, will you be going with it?"
"That question comes from my fiancee," Mr. Riedel joked, earning a laugh from the audience.
"No, it literally says 'brilliantly' in the program," we retorted.
"When I was a young, aggressive reporter, I attacked Frank Rich and Alex Witchel who were then the real power of The New York Times theater world," our new fiancee said. "They stupidly took the bait, and responded to my attacks. I used the letters from their lawyers threatening lawsuits to build my name up. I leaked their letters to Page Six and the New York Observer all in an effort to create a personality for myself."
("Uh-oh," we thought. Good thing we hadn't identified ourselves yet.)
"So I learned from their mistakes," Mr. Riedel continued. "So when people write things about me, I just don't respond."
Well, that didn't really answer our question, so we tried to find Mr. Riedel after the show. We found him talking to one of New York theaters' biggest donor couples, Steve and Michelle Lichtman.
"Have you two met my new fiancee? We just got engaged," Mr. Riedel introduced, grabbing our hand.
Mr. and Mrs. Lichtman looked somewhat confused.
"So Michael, how big is your role?" we asked, changing the subject.
"Oh, well I'll just be playing myself. It's a wonderful show, really fun."
"So like when Jay Mcinerney played himself on Gossip Girl?" we asked.
"Exactly, it's exactly like that," our (apparent) future husband replied. He then went on to tell a story about a recent evening, when backstage during a benefit Don Imus had pulled out a gun at the critic's suggestion that he take Mr. Imus' son to see a musical.
"He just carries a gun around! He's such a character!" Mr. Riedel exclaimed gleefully. He couldn't remember what kind of gun, but we assume it was loaded. Chekhov's law and all.
Hopefully, the residuals from Smash will pay for our house in Barbados, if Mr. Imus–or an enraged Frank Rich–ever does come after him.