At last report most consumers have been waiting peacefully for Nike's new limited-release Foamposite Galaxy basketball shoe, camping out on sidewalks in tents and sleeping bags. MyFoxPhilly reports someone wanted the $220 glow-in-the-dark shoes badly enough to offer to trade their 16-year-old Chevy Cavalier on Craigslist, which is kind of crazy, but not frightening.
However, according to multiple accounts on social media, the scrum for the Galaxy at Florida Mall in Orlando has been anything but peaceful:
Disturbance at The Florida Mall. Send us your photos, and we want to talk to you. Send with #osphoto

— Orlando Sentinel (@orlandosentinel) February 24, 2012
We've got reports of police in riot gear out at Florida Mall. Story to come……

— Orlando Sentinel (@orlandosentinel) February 24, 2012
Florida mall is crazy right now. Cops on horses, swat team, tear gas #scaredformylife — Keonee Adams(@astoldbykeonee) February 24, 2012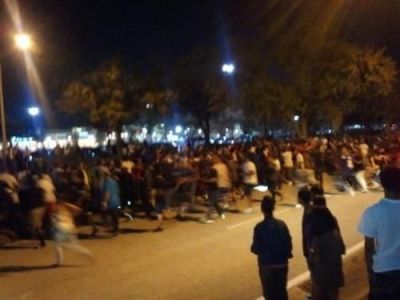 The Orlando Sentinel also reported confirmation of the ongoing disturbance from the Orange County Sheriff's Office but further details were not available.
Linsanity may converge with Foamposite Galaxy insanity. RollingOut.com reports Knicks breakout superstar Jeremy Lin could be sporting a pair while playing in the NBA All-Star Rookie Challenge this weekend. Perhaps the All-Star weekend is a small factor influencing the craziness at the Florida Mall–the event also takes place in Orlando and is hosted by the Orlando Magic.