The Nippon Life Insurance Company will be moving out of its current offices at 521 Fifth Avenue for the Durst Organization-owned 655 Third Avenue.
The company, a U.S. subsidiary of the Japan-based insurance company, will be taking the entire 16th floor of 655 Third Avenue, at a size of 16,194 square feet, said those close to the deal.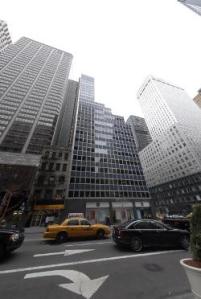 Nippon Life Insurance Company will relocate from 20,000 square feet that it currently occupies at 521 Fifth Avenue for its new offices sometime in August.
Anthony LoPresti and David Hollander, both of CBRE, represented Nippon Life Insurance. Eric Engelhardt and Karen Kuznick, both of The Durst Organization, represented the firm in-house.
Asking rent for the 10-year lease was reportedly $54 per square foot.
Nippon's current lease for over 20,000 square feet at the SL Green-owned 521 Fifth Avenue was set to expire by August, and the firm decided to look for new space instead of renewing.
"They needed new space, and what appealed to them is the location and the quality of ownership," said Mr. LoPresti.
The Durst Organization is currently building out the 16th floor for the Nippon Life Insurance Company in time for its August move.
"We were able to time this nicely for them," said Mr. LoPresti.
The new design of the space will be a combination of permanent offices and an open area.
The firm is also taking a piece of the 18th floor, at 2,593 square feet, that will be used for a group "that doesn't necessarily need to be with the main group," said Mr. LoPresti.
The Nippon Life Insurance, which offers its services in the United States under the name Nippon Life Benefits, recently received full-service credit rating agency firm A.M. Best's financial strength rating of A- (Excellent), a rating the insurance company has maintained since 2005.
Drosen@observer.com