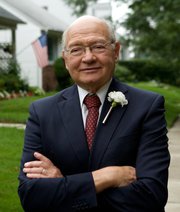 Over the weekend rumors emerged that Democratic Congressman Gary Ackerman would not seek reelection in 2012. In response to these rumors, Mr. Ackerman tweeted, "Republican rumor mill is 100%, Absolutely Wrong. I'm running." In an interview with Capital New York, he emphatically and repeatedly rejected this speculation as well.
But that's not enough to convince the National Republican Congressional Committee. The organization sent out a statement this afternoon directly stating Mr. Ackerman will end up retiring.
"The question is not if but when Gary Ackerman is going to retire," Nathaniel Sillin, the group's regional press secretary, wrote.
"Rumors have been swirling around fueled by two key telltales," he continued. "Exhibit A) The possibility that his district and that of Carolyn McCarthy would be drawn together – potentially forcing a Member vs. Member primary matchup.  Exhibit B) His lackluster fundraising – $55k and a 275% burn rate in the 4th quarter of last year."
Mr. Sillin's analysis further compared Mr. Ackerman to Upstate Congressman Maurice Hinchey, who recently announced his intentions to not seek reelection himself:
Is this another NY Democrat doing the old "I'm running until I'm not running" routine?? Sounds AWFULLY familiar.

December 31st: Hinchey spokesman denies rampant retirement rumors: "It's baseless inside Washington speculation…Congressman Hinchey has repeatedly stated that he has no intention of retiring and he will seek reelection." (Hinchey denies considering retirement, Daily Freeman, 12/31/11)

January 18th: Hinchey Announces Retirement (Democratic Rep. Maurice Hinchey to retire, Washington Post, 1/18/12)
As Mr. Sillin alluded to, much of this discussion centers on redistricting. New York will have to lose two congressional districts this year, and it's unknown which districts those will be, or even who will be making that decision; the courts have recently begun to intervene in the process. If Congressman Bob Turner's Queens-based district survives, it's reasonably likely that Mr. Ackerman's Nassau County district would be combined with a neighboring Congresswoman Carolyn McCarthy's. Both have vowed to run for reelection no matter the circumstances.
Update: Characteristically, Mr. Ackerman responds via Twitter: "NRCC takes break from tryng 2 deny women access 2 contraception in order 2 lie about my future.Tomrw, back 2 attackng womn's rights"