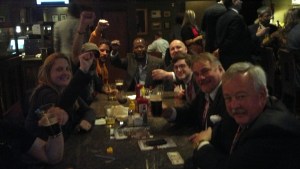 For at least one evening last Friday night, Tea Partiers and other conservative activists mingled happily with members of the Occupy Wall Street movement over drinks in Harry's Pub at Washington D.C.'s Marriott Wardman Park, where the annual Conservative Political Action Conference was being held. The Occupiers originally showed up to protest the conservative confab, but found themselves seated around a table with several CPAC attendees including Jim Gilchrist, co-founder of the controversial vigilante immigration enforcement group, the Minuteman Project.
"I've always felt that there was a common thread with their grievance and the grievance of everyday Republicans, Democrats, Independents, many of us," Mr. Gilchrist told The Politicker. "So many of us are frustrated with our federal government."
The strange cocktail hour began after Mr. Gilchrist led some of his fellow of conservative conference-goers to visit the Occupiers protesting CPAC outside the hotel.
"I just invited a group of about six of us to go down and engage in discourse with the Occupy Wall Street and issued a warning, 'Look, if it gets hostile, we back off and we leave. If law enforcement comes in and says, 'Get away from them, because it'll create conflict and riot,' we will obey law enforcement," Mr. Gilchrist said. "We walked down there and there was not one shred of hostility towards us. I think they were surprised that we would come into their ranks."
Mr. Gilchrist and his band of conservative activists, which included his "bodyguard" Edwin Williams and TeaParty.org Executive Director Stephen Eichler, ended up convincing several of the Occupiers to join them at the bar for food, drinks and discourse. At the bar, they ran into a bearded, tattooed Occupier who only gave his name as "James" and said he took refuge in Harry's Pub after hotel security threatened to kick him out for wandering the lobby. In the end, the group included about six conservatives and six Occupiers.
"At this table, there are Republican activists, the founder of the Minutemen, and there are several principled Occupiers and we are all having a peaceable, wonderful, friendly conversation about what's wrong with this country," James said.
Hudson Flynt, a Tea Party activist and author of a book called Reconquer America, figured he and the others at the table had "more than 70 percent of common ground."
"Those things where we disagree, we are getting into a deeper discussion to find out where we can actually come to an agreement on our understanding," Mr. Flynt said.
Despite these good natured assessments of the conversation, there were definitely some differences of opinion around the table at Harry's.
"The disagreements are not about what the issues are or the problems are, it's about how to fix the problems," said Johnny Mandracchia, an Occupy protestor from Northern Virginia.
Jeffrey Gayner, Chairman of Americans for Sovereignty, concurred.
"There's the commonality of the distrust of authority and government, I think there's a huge commonality there, but it's just a matter of, our distrust is more of the government screwing up the situation rather than the corporations," Mr. Gayner said.
Occupiers and Tea Partiers are often linked together by the media, but in the past, members of both groups have aggressively disavowed any similarities. At CPAC, the collision between the groups was hardly harmonious. Occupy protesters disrupted several events, including Ms. Palin's keynote speech and one of the panels was a discussion entitled "Taking Back Wall Street: The Tea Party Vs. Occupy Wall Street" where conservative pundit Kevin Jackson criticized the Occupiers as "irrelevant" and "nutjobs" and other panelists accused them of being unsanitary plants from sinister left wing organizations.
However, for those at Harry's, who spent over four hours drinking together, they left the convention with a greater understanding of their rivals from the opposite side of the political spectrum.
"Build a bridge and you'd be amazed at how their grievances are the same as our grievances," Mr. Gilchrist said.