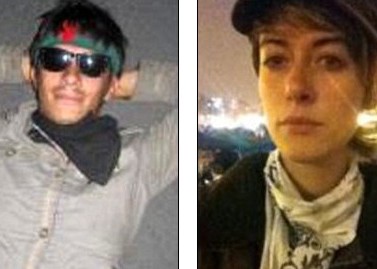 Kaylee Dedrick was just an innocent Occupy Wall Street protester back in September when Deputy Inspector Anthony Bologna blew pepper spray directly into her face, which in turn blew her directly into the arms of her now-fiance.
It's an OWS Valentine's miracle!

We had written (somewhat cynically, because we are cold-hearted Scrooges), that the romance between Ms. Dedrick and 24-year-old Robert Grodt from Santa Cruz was bound to fail, despite the fact that the duo had met when he saved her from further harm after the pepper spraying incident, pulling her into a nearby movie theater and washing her eyes out. We weren't just hating: Mr. Godt had told The Wall Street Journal in November that he had enjoyed the sleeping bags of several women since arriving at Zuccotti Park, and that his out-in-the-open make-out sessions were "a natural human thing."
While the timeline is a little bit fuzzy as to when Mr. Godt and Ms. Dedrick officially started dating, (as well as to when Ms. Dedrick started being interested in men) The New York Observer pegged him as a Z-Park playa, and had entirely forgotten about the incident until we received an email from Kaylee Dedrick's mother this afternoon.
She informed us that the two were now engaged, and that Mr. Godt had proposed to her daughter in Zuccotti Park on New Year's Eve.
"And he is really a nice guy after all," wrote the older Ms. Dedrick.
Hey, we're happy to admit that we were wrong to judge the love between two demonstrators: mazal tov to the both of you.