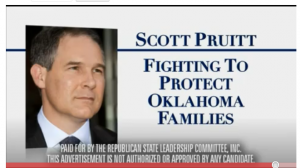 The American government finally has something to show for the some of the largest banks in American preying on the American people and taking the economy down while they did it: a $28 Billion settlement. The settlement was agreed upon by the big five mortgage providers (Bank of America, JPMorgan Chase, Wells Fargo, Citigroup and Ally Financial) and 49 of the 50 attorney generals. This comes after months of talks and holdouts by the attorneys general of Delaware, California, Nevada, and New York's own Eric Schneiderman, who wouldn't agree to the settlement until they felt they'd won something for their states.
But there were only 49. The 50th A.G., the one who didn't join? It's Scott Pruitt, the Attorney General of Oklahoma. Why did he hold out?
After the housing market burst in 2008 and took the entire economy down with it, it became clear that the country's largest banks and their predatory behavior was to blame. If you don't know by now, they were handing out seemingly free money, without educating those taking it on the fact that it would eventually result in something really, really bad (kind of like that scene from Alien where the baby alien bursts out of the guy's chest and tries to kill everything around it).
In this light, Oklahoma A.G. Attorney General Scott Pruitt's decision to not be a part of this settlement seems a little, well, odd.
Mr. Pruitt still got a settlement for the state of Oklahoma to the tune of $18.6M, independent of the one agreed to by all other 50 states.
From his office, the reason he gave for not being part of the team:
On March 16, Pruitt sent a letter to [Iowa A.G. Tom Miller, leader of the group settlement] voicing strong concerns that the settlement greatly overreached the authority of state attorneys general and warned the terms created questions of fundamental fairness and justice by rewarding homeowners who stopped paying their mortgages over families who continued to make payments even if they were underwater on their loans.

Pruitt also warned the settlement's structure might encourage more homeowners to default on their loans so they could benefit from the settlement. "We had concerns that what started as an effort to correct specific practices harmful to consumers, morphed into an attempt by President Obama to establish an overarching regulatory scheme, which Congress had previously rejected, to fundamentally restructure the mortgage industry in the United States," Pruitt said.
Again, Pruitt's settlement wrangled $18.6M, as opposed to Nevada's $1.5B, for example. From the Times:
A recent estimate from the settlement negotiations put the average aid for homeowners at $20,000. "I just don't think it's going to be a life-changing event for borrowers," said Gus Altuzarra, whose company, the Vertical Capital Markets Group, buys loans from banks at a discount.
$20,000. Not a lot, given that:
About one in five Americans with mortgages are underwater, which means they owe more than their home is worth. Collectively, their negative equity is almost $700 billion. On average, these homeowners are underwater by $50,000 each.
Pruitt claims that his state will get the same amount of money in their settlement as they would have in the national settlement, and that he broke off of the national settlement on principle (the same way he tried to sue the Obama administration to overturn Obama's health care policies). To be fair, Oklahoma's foreclosure rate isn't among the worst in the country.
But: In Oklahoma's settlement, only 930 people would be the recipients of $20,000 (directly or indirectly) in aid.
In 2011, in Tulsa, Oklahoma alone, 5,453 houses entered foreclosure proceedings.
Again—just in Tulsa—one in every 72 homes were in foreclosure. Let's say only half of those houses had predatory loans under them. That's about 2,726 homes, and a very generous figure. In Oklahoma's settlement of $18.6M, each one of those 2,726 homes would only receive $6,823, which is $13,000 less than everyone else in America in that settlement will get.
In Pruitt's words, he did it for the community banks. And on principle, of course.
For what it's worth, some samples from Pruitt's 2010 donation cycle:
JP MORGAN CHASE & CO: $10,000.00
ASSOCIATED GENERAL CONTRACTORS OF OKLAHOMA: $5,000.00
ERC LAND DEVELOPMENT GROUP LLC: $5,000.00
AMERICAN FIDELITY CORP: $5,000.00
KOCH INDUSTRIES: $5,000.00
OKLAHOMA ASSOCIATION OF REALTORS: $4,000.00
OKLAHOMA BANKERS ASSOCIATION: $3,500.00
And some broader totals:
Finance, Insurance & Real Estate: $175,172.00
Lawyers & Lobbyists: $142,835.00
General Business: $125,546.00
And that's the story of Oklahoma, the one state that didn't agree to the National Mortgage Settlement.
fkamer@observer.com | @weareyourfek