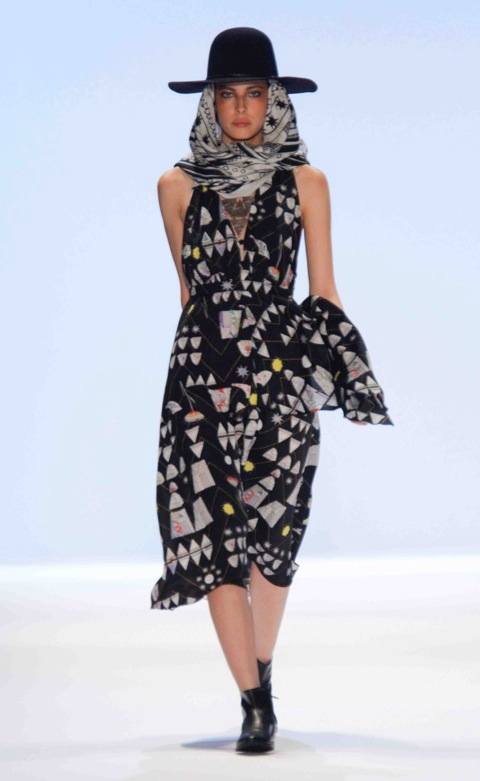 "You're going to write nice things about my daughter's show, right?" Monte Hoffman asked The New York Observer. We were sitting in the front row of Lincoln Center's stage, where rumors of Mara Hoffman's Fall designs had already booked the house to capacity and given way to rumors that J.Lo was in attendance.
But while we didn't see the Fly Girl, we did catch Whitney Port, who, like Ms. Hoffman, is repped by Kelly Cutrone of People's Revolution. We also played out our America's Next Top Model bingo game when Nigel Barker and J. Alexander took their seats. Naturally, blogger/stylist June Ambrose was photographed an excessive amount, because as we are quickly learning, she is the most important person of Fashion Week. Louise Roe was the second most photographed.
Here is a secret that you won't get from The Daily: the best seat in the house isn't next to the celebs or editors: it's next to the family members. We admit to feeling initially out of place when Ms. Hoffman's sister asked her father quietly who we were—the only non-relation in the section—but Mr. Hoffman was more than gracious about whatever mixup had us placed with the designer's family from Buffalo.
While waiting for the show to begin–which featured flowery, asymmetrical tribal-pattern dresses and cloaks (yes, Native American and African-inspired), Mr. Hoffman regaled us with stories of Mara's youth: "I knew (she'd be a designer) from the time she was five. She'd show up at the top of the staircase in these outfits she had cut up and put together herself."
"But she wasn't sewing yet," said Mr. Hoffman's girlfriend of five years. "Right? She wasn't cutting anything up and sewing it at five."
We busied ourselves in our goodie bag whole various cousins and fashion family friends came over to kiss the ring.
We pulled out a small packet of what at first we thought was gum, but what were in actuality condoms from Planned Parenthood, designed by Mara Hoffman.
"What are those?" Mr. Hoffman's girlfriend asked us.
"Um." We replied.
"Oh gosh, condoms?" Mr. Hoffman had apparently looked into his own bag. It must have been an odd moment: the show hadn't even started and the designer had already given her father a preview of her latest line of prophylactic design wear.
"Well," Mr. Hoffman laughed. "I won't be needing these."
Daaaaads.