"I heard Kristen Chenoweth is here," whispered our seatmate in the second row, a buyer from Barney's. "Who's Kristen Chenoweth?"
"She was in Glee," we said. "Never saw it." "She was in the original cast of Wicked."
"Never saw it."
"She's like Kelly Ripa, but with a higher voice."
"Oooh," said the buyer. "Yeah, her."
A lady came over with a clipboard to the British model/celebrity.
"Ms. Chung, would you like to sign a petition for the
Model Alliance
? We're fighting for models' rights."
Ms. Chung looked confused.
"I think I'd need to know a little more information before I sign this," she said. "I've never heard of you before."
"We like your outfit, Fabiola," we whispered to the socialite and daughter of Veronica Heart, who was sitting right in front of us. "Are those ponies?"
"Thanks, you look great too!"
Later on Ms. Beracasa would ask us for a pen so she could write down a number, but by the time we found one, she had already borrowed from someone else. The exciting times of Fashion Week!
@Us: I swear to god I've seen @bevansburg at every damn runway today. Teen Vogue represent.
@brevanburg: I'm trying girl!
@Us: @Bevansburg If I find you again, do I win a prize?! #WheresBevan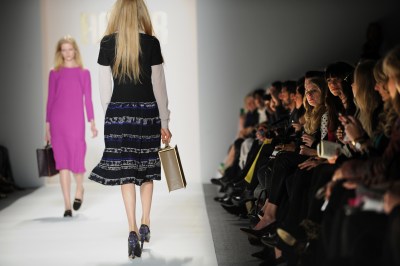 During our continued observance to bring you everything non-fashion-related to Fashion Week, here is what we overheard on the front row of today's Honor show at Lincoln Center.
Don't ask us what the models were wearing: we were focused on the socialites and stars.