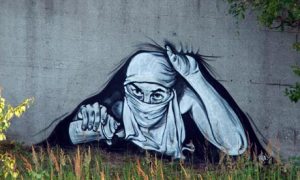 The Russian street artist known as P183, whose images caused a stir when they were published in January, is set to release new work, The Guardian reports.
The artist's works have included a cut-out of a girl hanging baubles on barbed wire, an enormous pair of glasses with a lamppost for an arm, and a rioter with a flare painted on a flyover. He has been compared to British street artist Banksy for the stylistic similarities and for his penchant for painting murals that engage humorously and subversively with the buildings and environments in which they're set.
The artist, who recently spoke over Skype from Moscow, donning a balaclava as per usual, claimed he never tried to mimic Banksy: "I fully understand that we both have a common cause, but I never sought to emulate him or anyone else. I use the songs of people such as Yegor Letov and Konstantin Kinchev for inspiration–not public figures."
His inspiration remains the same, he says: "To have a strong, educated and cultured homeland." The artist is preparing a new series that will be unveiled soon around the streets of Moscow.