Pace University has renewed its 32,707-square-foot lease at the downtown office building 156 William Street, sources have told The Commercial Observer.
The university will lease the building's entire fifth floor and a portion of the eighth. Asking rents at the property, a 190,000-square-foot building owned by Capstone Equities, are in the $30s per square foot.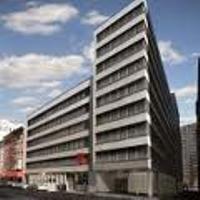 Pace had already occupied the fifth floor but will be moving within the 12-story building to take the space on eight. The school, which splits its campus between Westchester and Lower Manhattan, used to have its second floor in the property on the entire penthouse level. Capstone, through its CBRE brokerage representatives at the property, negotiated to have Pace move that floor so that it could market the 12th floor along with an availability on the entire 11th floor as well, creating a contiguous block that together totals about 28,000 square feet and could potentially be easier to market to prospective tenants.
Pace was represented by a Newmark Knight Frank team led by NKF's New York area president David Falk and executive Kyle Ciminelli. A CBRE agency team led by executive Brad Gerla represents Capstone at the building.
Pace has been active in Lower Manhattan in recent months. As The Commercial Observer first reported in January, the university leased an entire building, 140 William Street, which totals nearly 50,000 square feet, for its Dyson College of Arts and Science. In a conversation with The Commercial Observer at the time of that deal, William McGrath, Pace's chief administrative officer and a senior vice president at the university, said that the dance school would be among the programs that relocated to the space.
Pace overall has grown substantially in recent years. Mr. McGrath said that a decade ago the school had enough dorms to house about 500 students. Today he said that Pace has 2000 students in its residences.
"Our expansion here is inline with the changes that have happened in lower Manhattan becoming a far more popular place to live and work and for culture," Mr. McGrath said then.
Mr. McGrath couldn't be reached to comment on the deal at 156 William Street. Pace uses the space in the property to house administrative offices.
Dgeiger@Observer.com