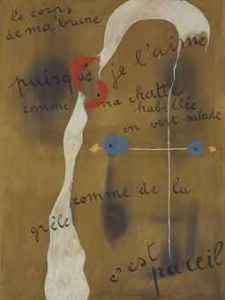 Joan Miró's Painting-Poem set a new artist record at Christie's Impressionist & Modern sale in London Tuesday. The hammer price plus buyer's premium was £16.6 million, or $26.6 million.
The painting is from 1925 and contains the words: "le corps de ma brune puisque je l'aime comme ma chatte habillée en vert salade comme de la grêle c'est pareil," etched over an ash and sand-colored backdrop filled with abstract shapes.
The pre-lot text said that the painting came from a "private New York collection." Painting-Poem sold well over its high estimate of about $14 million. The previous Miró record was set in 2008 at Christie's by La caresse des étoiles, which according to Artnet.com, sold for $17,065,000.