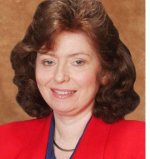 Pat Maher, a former Democratic Congressional candidate whose 2010 biography described her as "the Director of Development and Community Relations for a not-for-profit health care foundation covering Long Island," told The Politicker this afternoon she intends to run against one of two Republican State Senators, Kemp Hannon or Jack Martins, this year. This could set up a competitive Democratic primary as there is already a Democratic candidate, Ryan Cronin, running against Mr. Hannon.
"I'm committed, but I'm not committed as to which race," Mr. Maher said, indicating her decision will be made based on how New York's chaotic redistricting process works itself out.
In her 2010 campaign, Ms. Maher notably pulled a very respectable 31% of the vote against veteran Congressman Gary Ackerman in 2010, despite spending only a few thousand dollars. Doing even that well in a primary against an incumbent is difficult; for example, Reshma Saujani spent over $1 million in her campaign against Congresswoman Carolyn Maloney that same year, yet received only 19% of the vote.
"I'm a little bit of a rebel out here, even in the party," she admitted, while noting her strength in other races she's run.
"I ran for county legislator and I almost beat a 14 year incumbent, I have an interest in being an elected official," she said. "I follow the state issues quite a bit, I think Albany is a mess. I do agree with governor Cuomo on a lot of things."
Notably, Ms. Maher said education will be a key aspect of her campaign platform.
"All politics is local … school districts here are closing like crazy. People move here for one reason, they move here for the schools," she explained. "Not having funding for education is really a big issue to people out here."
Looking at the numbers, Mr. Maher said she was optimistic she had a viable path to victory. Arguing her potential primary opponent Mr. Cronin "doesn't have enough of a base," she said President Obama was likely to do well in both Mr. Hannon's and Mr. Martins' districts, setting up a potentially competitive general election.
"We have a Democratic president on the ballot. The more I look at the Republicans, I don't see how any of them can win," she said. "If I look at those districts that he will probably do in well because of the demographics, there's a chance of taking that kind of seat."