Penson, a financial services company, has expanded and renewed its lease at 1 Penn Plaza, the company's brokers have told The Commercial Observer.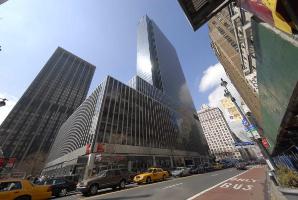 The firm signed a deal for 20,599 square feet on the 51st floor of the soaring 57-story office building, which is owned by the office REIT Vornado and is one of the largest and most prominent towers in the direct vicinity of the city's busiest transit hub Penn Station.
Penson is nearly doubling in the size in the deal. Previously it had occupied about 12,000 square feet on the floor, which is about 36,000 square feet in size. Asking rents for the space are in the high $60s per square foot but those involved in the deal said they could not divulge the economics of the lease, which through negotiations is likely to be lower than the ask.
Sean Black and Bill Peters, executives at the real estate services firm Jones Lang LaSalle, represented Penson in the 10-year deal. Both said that expansion would allow Penson to grow as well as potentially consolidate other office locations it has in the city.
Vornado is represented in house by a leasing team led by its director of leasing Glen Weiss. Mr. Weiss wasn't available for comment.
"This deal is a little contrary to the market right now," Mr. Black said, noting Penson's strong growth at a time when the financial sector's normally voracious appetite for office space has appeared sated by the uncertain impact of of government regulations that have yet to take effect, an ongoing Euro debt crisis, as well as general concerns about the health of the economy overall.
Penson provides clearing and settlement services and technology for financial clients as well as securities, futures and derivatives processing products and services.
Mr. Black said that he had scoured the market for space in case the company decided to relocate but eventually found that staying put was the best option.
"We ended up doubling back to the building largely because this is where most of their employees came in from, it matched the commute patterns," Mr. Black said. "And with this deal they got incentives from the landlord that will allow them to upgrade the space."
Dgeiger@Observer.com