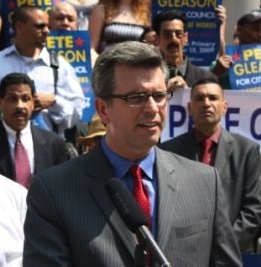 Democratic Senator Daniel Squadron has criticized the legislative lines proposed by the Republican majority as the result of a partisan and "poisonous" redistricting process," but one man believes Mr. Squadron is responsible for gerrymandering him out of his district. Pete Gleason, an attorney and two time City Council candidate who's mulling another run for the Council, told The Politicker he believes his home was slated for removal from its current Senate district by Mr. Squadron.
"You know, it's so transparent, it's comical in one sense, but it's also so transparent and it's very dangerous," Mr. Gleason said. "You cant have opposing parties in Albany complaining the other party is a scoundrel and you have no say in the process. When the line that was drawn in front of my door to exclude me from the district I've been in since 1998, you can't say you had nothing to do with it, that's ridiculous."
Mr. Squadron's spokeswoman, Amy Spitalnick, was flabbergasted when we called to ask about Mr. Gleason's accusation.
"Has April Fools' Day come early?" she asked.
She subsequently provided us with a statement  saying Mr. Squadron had nothing to do with the proposed Senate district lines.
"Nothing could be further from the truth. As Senator Squadron has said many times, the Republican redistricting plan is political and shameful. He was made aware of these proposed lines some time after blogs began linking to them," Ms. Spitalnick said.
Mr. Gleason's home is on North Moore Street between Hudson and Greenwich. Mr. Squadron's district currently encompasses almost all of Lower Manhattan on the East and West Sides below Canal street. Under the new proposal, a slice of the West Side will be cut from his district including a small square around Mr. Gleason's block. Though, Mr. Gleason is aware Republicans are behind the proposed Senate lines, he believes Republican Senate Majority Leader Dean Skelos may have been willing to give Democrats in Lower Manhattan favorable lines since Republicans rarely win in the area.
"This is only my speculation, but the state Republicans know they're never going to get Lower Manhattan, so what is it for Dean Skelos to go to Daniel Squadron and say, 'I'll give you this bone and this bone,'" Mr. Gleason said. "The Senate Democrats could be trying to solidify their base and make themselves as bulletproof as possible in Lower Manhattan, basically building their own fortress using fictitious lines."
Despite Mr. Gleason's belief that Mr. Squadron may have cut him out of the Senate district, he said he's a supporter of Mr. Squadron and has no intention of challenging him for the Senate seat.
"I support Daniel, I think he's a very effective Senator in a very ineffective State Senate," Mr. Gleason said.
In spite of this, Mr. Gleason thinks he may have been gerrymandered out of the district because he's "a very vocal supporter of things that could be done better in Lower Manhattan and that goes against the grain of the establishment sometimes." If he's removed from the district, Mr. Gleason believes his ability to weigh in on issues in the neighborhood will be compromised.
"There's that little thing called standing, and if I complain about something that's across the street from me in Daniel's district, if you dont live in that district they're under no obligation to address you," Mr. Gleason said. "Where do you live? That's the first question any elected asks."
Mr. Gleason hasn't discussed the issue of the proposed lines with Mr. Squadron, but he's sure the senator is aware he could be cut from the district.
"He is one of the most intellectual and fastidious elected officials I've ever met, so an issue like this would definitely be on his radar," Mr. Gleason said.
Mr. Gleason is also considering a run against Councilwoman Margaret Chin and he said he doesn't want her to think he'll sit idly by and let her cut him out of her district when the Council lines are drawn.
"I'm so outraged about this line being drawn in front of my door," Mr. Gleason said. "I don't want to give Chin the impression that she can push me out of a district that I've lived and served in since 1981."
Mr. Gleason ran for the Council seat in 2003 and 2009, when he came in fourth.