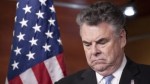 Long Island Congressman Peter King defended the New York Police Department's spying on mosques in New Jersey, saying that police officers needed to go where terror threats were likely to congregate.
"Ray Kelly and the NYPD should get a medal for what they are doing," he told CBS's Marcia Kramer. "This is good police work. If you are going after radical Muslims you don't go to Ben's Kosher Deli."
Mr. King has long been unapologetic about targeting Muslims. Last year, in his capacity as chairman of the House Homeland Security committee, he opened up an investigation into the "radicalization" of American-born Muslims, a hearing which was criticized for being inflammatory.
Take a look: