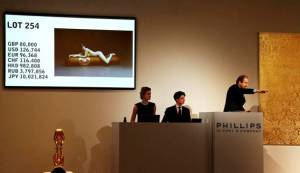 Phillips de Pury's small contemporary sales in London this week made a total of £9,128,075 ($14,334,181), according to a press release from the auction house.
At the day sale, the top seller was Mel Ramosh's Upmann 1844, which sold for £97,250 ($154,073). Richard Pettibon, Gerhard Richter and Andy Warhol also made appearances and Martin Boyce, winner of the 2011 Turner Prize, set an artist record for a work on paper.
At the evening sale, the top lot was Lucio Fontana's Concetto spaziale, Attese, which was the only work at the auction to break into the seven figures.
Meanwhile, Simon de Pury has a Twitter now.