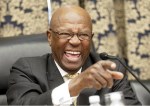 In case you were wondering, Brooklyn Congressman Ed Towns has broken his weekend-long silence on the death of pop diva Whitney Houston.
This morning, Mr. Towns sent out a rambling, 557 word opus on the dearly departed R&B diva included the congressman's thoughts on death, drugs aging, parenthood and an extensive discussion of the singer's mother, Cissy Houston.
Congressman Towns' press release was so epic we had no choice but to reprint it in full:
"As Dr. Martin Luther King, Jr. once said, longevity has its place and certainly the quality of one's life is more important.  We all want to live to a ripe old age and one of the more trying aspects of growing older is having to witness people passing on from this life.  As I age, I find myself going to more and more funerals.  This is just a reality of growing older.

"The most difficult thing in all of this is saying goodbye to relatively young people.  No parent wants to attend the funeral of their child.  For them, it is a heart-wrenching experience to know that your beloved daughter or son's life has been cut short.  So when I learned of the death of Whitney Houston my mind and heart immediately went to Cissy Houston, Whitney's mother.

"I wonder how many young fans of Whitney Houston even know about her mother's career.  Most of her fans know more about her cousin Dionne Warwick than they do about her mother.  If you know Cissy Houston, then you would know that talent-wise, the apple did not fall far from the tree.  Emily "Cissy" Houston is a most gifted singer who has enjoyed a stellar singing career—as a back up to the likes of Otis Redding, Aretha Franklin, Elvis Pressley and many others.  She was part of a successful soul trio—the Sweet Inspirations with her niece Dee Dee Warwick and Doris Troy.

"But Cissy never forgot her gospel roots and ultimately won a Grammy Award in 1996 for Best Traditional Soul Gospel Album for her album Face to Face.  If you want to hear Cissy Houston sing, you will find her in church on Sunday mornings singing God's praises.  So Whitney Houston was born into a world where singing was ever present.  It is not surprising that Whitney gave some of her most stirring renditions on the title track album for the motion picture The Preacher's Wife.  If you really want to be moved by Whitney's incredible talent, then you need to give a listen to her singing, "I Love the Lord."

"Whitney grew up in a different time than her mother and her cousin.  While the music industry has long been associated with the fast life, by the time Whitney came along, it was moving at warp speed.  It was too easy for her to get caught up in celebrity parties and the accompanying drugs.  God only knows how Whitney became consumed.  Was her troubled marriage to Bobby Brown a factor?  Perhaps, but it was Whitney who ultimately made the choices she did.

"The list of "too young to die" musical greats is long—Billie Holiday, Janice Joplin, Sam Cooke, Jimi Hendrix, Marvin Gaye, Phyllis Hyman, Jim Morrison and, most recently, Amy Winehouse, to name a few.  Like millions of her fans, I will miss Whitney Houston and the world will be a lesser place now that her voice is silenced.  Her many recordings will continue to bless us.  I will be listening to Whitney Houston.

"But right now, my heart goes out to Cissy Houston and her family.  Cissy has lost her daughter and there is little that can comfort her now.  Only her faith in God will sustain her through this tragic experience.  I will pray her strength and dust off some of my Cissy Houston recordings."
A few items to note here. For one, this statement about the death of Whitney Houston is mostly not about Whitney Houston. Sec0ndly, Mr. Towns is not one of those pols who flood inboxes with statements. The last one this newsroom received was back on Feb 1, and it was a salute to Black History month.