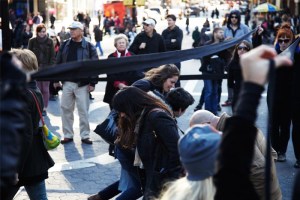 We just received a press release from Public Movement–the political performance group that is part of the New Museum's "Ungovernables" triennial–about a series of salons that will take place March 1-April 21 in conjunction with the exhibition.
Their piece at the New Museum is simply a flag hanging above a plastic container holding flyers that advertise the salons, which are being touted as "performative public debates." They're extending their reach beyond that piece and sending out press releases via email. The series is called "Birthright Palestine?"
The first salon will take place at the New Museum and invites branding experts to present ideas on how to re-brand Park51 (better known as the "Ground Zero Mosque"); the audience will act as the Park51 board and will vote on the best proposal.
Information on the rest of the salons can be found here.