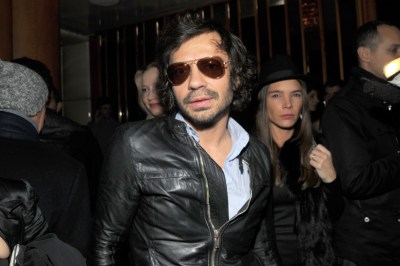 In the wake of last Saturday's Purple Magazine party, we were left with several questions: What is it about Fashion Week mag soirées that seems to whip everyone into a frenzy? What mysterious gravity does Olivier Zahm carry that sucks the clothing off of so many stunningly beautiful women? How is Lindsay Lohan even still alive?
Our prospective evening began unfolding with an incoming text from Natalie White, former muse of photographer Peter Beard and current item of lust on Purple's website: "Will I be seeing you at Purple Magazine tonight?" Of course, we replied, "but Natalie, how will we spot you?" Seconds ticked by, and came the response, "I'll be the one wearing a see-through dress, darling." With that image firmly lodged in our mind, we began to wonder what kind of party were we getting ourselves into.
We mulled the question as we hoofed it over to the Standard, a fittingly unglorified way to approach what would be a fittingly glorious event. Refinery29's Kristian Laliberte—on full Fashion Week tilt—and his posse spotted us a block out. After a ritual passing of the flask, the group rolled over to the (suspiciously quiet) entrance.
"Sorry baby, it don't start 'til 11," deadpanned an Amazonian doorgirl. "You gonna have to go wait in the lobby with the rest of 'em." Mr. Laliberte and our newly formed crew shambled into the appointed holding area with our tails between our legs—joining what more than one person referred to as "The Ellis Island" of the Purple party.
Our attempt to be fashionably late was unfashionably thwarted.
"O.K., let's head back over there so the line won't be too long" suggested Mr. Laliberte after a short time.
In the eight minutes we stood in the lobby, approximately 60 people had crowded the door, jostling for invisible spots on an invisible list that we were reminded would be "referred to as gospel" by the Amazonian.
(At this point, an aspiring—if misguided—partygoer was overheard remarking to his date, "I think we can sneak in. I've been here before." Raised eyebrows and knowing glances were exchanged among the on-the-list set.)
The extent of the door difficulty was underscored when Patrick McMullan, nightlife photographer and fixture extraordinaire, sidled up to the wrong side of the gate. "Yes, I'm Patrick McMullan, I'm here to shoot the Purple Magazine party," he informed her flatly.
The Amazon sized up the late-night veteran, thumbed through her clipboard and said: "Sorry, baby, you ain't on the list, and if you ain't on the list, you ain't getting in!"
Whoa.
The be-guestlisted mob waiting behind the velvet ropes noticed the martyr having a hard time, and began a rallying cry: "LET HIM IN! LET HIM IN!" The solidarity of New York party people can be a beautiful thing.
Once inside, The Observer took our post on the railing and waited to see who trickled by. First up: Writer Bennett Marcus, nightlife veteran that he is, gave us a few pointers on what's going to be what at this circus of an evening.
Peter Davis already seemed to be having a significantly better time than we, posing with the always-striking Anh Duong. We make a quick stop by the DJ booth to check in with the Misshapes, who reminded us that the evening might get a bit messy. (What was everyone so afraid of?) They neglected to mention, however, just how much of their set would be dedicated to the late, great, Whitney Houston. As a camouflage scarf-wearing Hamish Bowles strutted in, an onlooker remarked, "You almost kind of think that he's always listening to Madonna's 'Vogue' in his head."
Spying Derek Blasberg, with his hand wrapped around Sofia Vergara, we thought of Woody Allen's remark that he would like to be reincarnated as Warren Beatty's fingertips.
We ran into Alexander Skarsgard, whom we urinated next to a few nights prior. "It's good to see you again, Alex. Are you enjoying yourself this go around?" we asked, already knowing the answer."Yes, of course!" he enthused. "Look around you! Everything, everyone is so beautiful."
We looked around us. Everything and everyone was, indeed, beautiful. But even through the temporarily borrowed eyes of an international heartthrob, we had questions that were largely unanswerable: Who were all of these people? Where do they go between Fashion Weeks? Where were all of the promised see-through dresses?
Beyond a few standout characters, a few regulars, a few club kids and a few DJs, we noticed that even at this party, one of the most exclusive of the weekend, the froth that filled the gaps between celebrities was largely made up of people who don't seem to exist outside of party photo websites. People who snuck in by knowing a guy who knew a guy who knew a PR girl. Extras on the backlot of downtown nightlife.
As we reached the peak of our vodka-soaked state of reflection, we grabbed Waris Ahluwalia to gather his thoughts on what we were all doing here, and why: "What do you make of all this, Waris?" we asked. "Well, you know, Olivier Zahm does what he does, and you know, this is what it is." Hmm, elliptical.
Back into the froth.
Our photography degree was tingling, is that Juergen Teller? It was. We followed him for a bit, hoping to pry him away for a quick comment, but suddenly found ourselves in front of Russell Simmons: "You hangin' in there, man?" Looking out below the brim of a Yankees cap, a slightly weary Russell demurred, "Yeah, yeah, you know how these things go." We did.
Then it happened. Here we were in a fit of evening weltschmerz, and now confronted with the visage of the fast life's most cogent cautionary tale—the Go Ask Alice of the corner banquette—Lindsay Lohan.
Fresh from what appeared to be a bit of a spat with world-renowned gentleman (cough, cough) Brandon Davis, LiLo looked surprisingly good.
Staring into the void, we thought it prudent to introduce ourselves. "Evening, Lindsay," we said. "It seems we've gotten swept up into your posse!" A look of mortified disgust washed over her as she regarded our extended hand. The void was staring back into us.
We were swatted away by Ms. Lohan, as she made the most adorable "get the fuck out of my face" motion with her own little hands. We obliged, warm with the knowledge that we were back among the living.