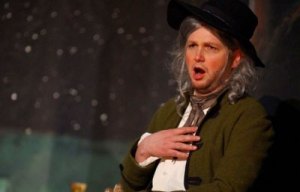 For the 15th anniversary of North Miami's Museum of Contemporary Art, Icelandic artist Ragnar Kjartansson will follow-up his 2011 Performa biennial commission, Bliss, with Du Holde Kunst. The artist will sing "a slow and repetitive version of Franz Schubert's 'An Die Musik' accompanied by a pianist, brass quartet, harp, timpani, large crash cymbal, and showgirls with big feather fans," according to a press release.
We last saw Mr. Kjartansson six hours into Bliss, where he and a group of Icelandic opera singers sang the final aria of Mozart's Marriage of Figaro continuously for 12 hours. It's about two minutes of music, which means–if our math is correct (and it probably isn't)–they sang the song about 360 times in a row.
That piece was simply transcendent and wonderfully human. The performers ate fried chicken with their hands during brief instrumental lulls and wiped the grease onto their classical period costumes as they sang. We could get used to Mr. Kjartansson's whole long-winded opera phase.