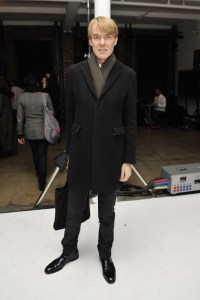 As the fashion director at Neiman Marcus, we expected Ken Downing to have a hellish Fashion Week schedule. We asked him before the Rebecca Taylor show how he was holding up. "I'm actually doing really good," he said. "You know what's interesting? Every day of my life is like fashion week because I travel for a living, and if I'm not doing fashion shows here in New York or somewhere in Europe, I'm doing a lot of fashion shows at my stores across the country," he drawled.
He does, however, have some tricks for surviving this particular fashion marathon. "I do find that I do a lot of power carbing, I do a lot of protein and a lot of carbs," he said. So something like PB&J? "I'm actually a huge sushi fan because I get protein and I get rice. So a lot of sushi a lot of water," he said.
We then noticed a barrage of flash bulbs and realized Olivia Palermo was finding her own seat. Wearing a Rebecca Taylor shirt (which she had not been wearing at the Peter Som show earlier today, we noticed) paired with a fur stole, she raved about the label. "It's easy, you know you can always pick something for everyone. For years I've always reached toward silk blouses," she said. Pulling at her floral print chemise for effect, she inadvertently revealed too much, giving us an eyeful of her prim, white upper unmentionables. She grabbed her chest, and we changed the subject.
Did Ms. Palermo have any specific Fashion Week habits? "No, you know what, I cant say that my schedule changes too much. I just fit in the shows, and do my normal routine." Wouldn't it be nice!
The lights dimmed and some upbeat techno mix began to blare, as they always do. The models swaggered down the runway, hair done in loose braids, parading various layered looks.
After the main event, we caught up with Jay Alexander who rolled his eyes when we asked to speak with him. "Your twenty seconds start now," he said. Mr. Alexander (Ms. J? Ms. Alexander? Mr. J?) named the collective "front-of-house" door managers as the biggest bitch of Fashion Week. Anything he only does during Fashion Week in New York? "Deal with the bitches at front of house," he then reiterated.