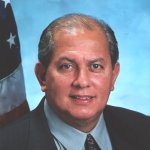 Last night, Roberto Perez reported Bronx Assemblyman Peter Rivera "is looking to leave the Assembly, and submitted papers for a position on the surrogate court" and Mr. Rivera's chief of staff Danny Figueroa is looking to run in the election replacing him.
"He is exploring for other options, he did apply for surrogate court, but he hasn't actually made a decision yet," Mr. Figueroa told The Politicker this morning.
A Bronx political insider additionally confirmed to The Politicker that Mr. Figueroa is indeed laying the groundwork for a campaign, but speculated Mr. Rivera might very well run for reelection. For his part, Mr. Figueroa said he would be very interested in the seat should it become vacant, but his loyalties remain with Mr. Rivera.
Regardless of who will be on the ballot in November, insiders expect Luis Sepulveda, an attorney who has worked for State Senators Ruben Diaz Sr. and Pedro Espada, to present a strong campaign for the seat. Mr. Sepulveda ran a spirited campaign against Mr. Rivera in 2010 and took an impressive 44% of the vote against the veteran incumbent.
The outspoken Mr. Diaz took a prominent role in Mr. Sepulveda's last campaign and will likely be involved again in 2012.