One of New York's biggest developers is making an unexpected contribution to Mitt Romney's presidential campaigns. No, it is not Steve Ross, head of the Related Companies and an active bundler for the Republican front runner. Nor is it Donald Trump, who once ran against Mr. Romney but now endorses him.
The secret supporter of sorts is the Durst Organization, a long-time supporter of Democratic politicians no less. The contribution is a simple clock.
Last August, the Romney campaign constructed a debt clock out of two flat screen TVs over which is affixed a Styrofoam screen. OUR NATIONAL DEBT, it declares, with a stylized dollar sign beside it. A live count clicks along in yellow calculator font, below that the amount owed by each tax payer. CUT THE SPENDING is emblazoned along the bottom. The clock makes appearances at select campaign stops, including a recent one in Michigan. It is meant as a prop to help enliven Mr. Romney's often wooden stump speeches, and Ezra Klein recently wrote that it is meant to "represent President Obama's economic failures."
It also looks very much like a similar clock just off Sixth Avenue, built by the towering developer Seymour Durst in 1989 to highlight the growing national debt, then at $3 trillion, or one-fifth its current amount. The clock was intended as a political statement, though it was not directed at any one politician. Durst once sent a holiday card to every member of Congress a few years before he put up the clock, informing them that their personal share of the debt was, like every other American's at the time, $35,000. It now stands at about $135,000.
The clock went dark between 2000 and 2002 as the national debt actually began to fall, but it was revived by Seymour's son Douglas Durst, who had been tending the clock since his father passed away in 1995. A titan in the New York real estate community to rival his father, he has donated to politicians ranging from Al Franken to Kirsten Gilibrand to the New York State Democratic Committee. A registered independent, Mr. Durst gave to the Obama campaign in 2008 but has yet to donate to the reelection effort, according to the latest filings. As befitting a New York real estate big, he has also made the necessary donations to local Republican candidates as well, though not to the national party.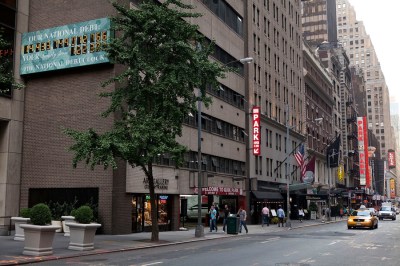 The Durst debt clock still makes news every so often. In 2004, it had to be moved from its prominent location across from Bryant Park, where the Durst Organization was developing the new Bank of America Building. It was relocated two blocks north to another tower the family owns, at the corner of 44th Street and 6th Avenue, where it again made news in 2008. The debt was about to surpass $10 trillion, and so an extra digit had to be added.
The Dursts were unaware of the Romney campaign's own debt clock, which looks strikingly similar not only in format but also color. Then again, money is green, so it could just be a coincidence. The Romney campaign did not respond to requests for comment.
The Durst Organization is unphased by the campaign's cribbing of its iconic clock, a object arguably more enduring than any of Seymour Durst's buildings, at least on the national consciousness, if not in New York. "People borrow the clock all the time," Durst spokesman Jordan Barowitz said. "It's in the public domain at this point."