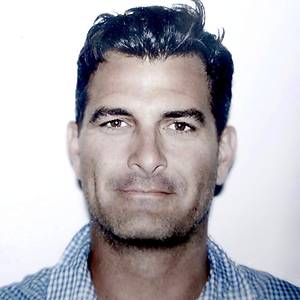 We wonder what bothers all red-blooded men more: that Scarlett Johansson is off the market, or that they could have had a shot with her. After all, the Sexiest Woman/Celebrity of the Year (according to Maxim, Playboy, GQ, etc.,)  has only dated celebs in the past: Sean Penn, Ryan Reynolds, Josh Hartnett, Justin Timberlake (well, that last one was unconfirmed, but still…) and not regular Joes.
Now the world's discovered that ScarJo's been dating a 38-year-old ad executive named Nate Naylor for the past five months. And despite having a moniker that's straight-up Gossip Girl, Mr. Naylor is just like us. He even has a Tumblr!
Nate Naylor's personal website (where he bills himself  as a Creative/Art Director: no Pete Campbell ad sales for him!) lists clients as illustrious as Weiden+Kennedy, Disney, Modernista! Ogilvy & Mather, Red Bull, and the Bill and Melinda Gates foundation. Also, his logo is "Blood & Droppings" which…okay! But more importantly, his website links to this:
That's Mr. Naylor's personal Tumblr, though we can infer from his last post (uploaded today) of the Kink's song "Goodbye" that he won't be updating now that the cat is out of the bag. What we can also infer is that Mr. Naylor really loves breasts (NSFW), which makes him a perfect candidate for becoming the future Mr. Scarlett Johansson.
Before he convinces David Karp to take his Tumblr down, let's all go look through the last five months of photos and see if we can find a picture of Ms. Johansson's hand or something.