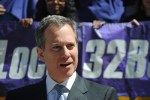 The Obama administration's efforts to bring Eric Schneiderman into the fold do not seem to be deterring the New York attorney general.
Today Mr. Schneiderman filed a lawsuit along with 10 other states
to compel the federal Environmental Protection Agency to revise national air quality standards for air pollution involving soot.
"Clean air is a public right, and standards that protect it are a necessity," said Mr. Schneiderman said in a statement. "Every day, air pollution, from soot, risks the health of more than one-third of Americans, including our most vulnerable – children, the elderly and the sick.  These risks are simply unacceptable. The EPA must take prompt action to reduce pollution now, and safeguard the health of the public and the air we breathe."

The action comes after the EPA failed to meet an October 2011 deadline for revising the existing standards as required by the federal Clean Air Act.  The suit was filed in
federal district court in Manhattan and it asks the Court to order the EPA to adopt new  air pollution standards promptly and by a date certain.
The Clean Air Act requires the EPA to review the national air quality standards every five years and to update the law as necessary.
Mr. Schneiderman has been something of liberal thorn in the side of the Obama administration, refusing, until yesterday, at least, to go along with their efforts to reach a settlement with the nation's banks over the mortgage crisis. Earlier this month he was appointed the head of a federal commission to get to the root causes of the fiscal crisis.