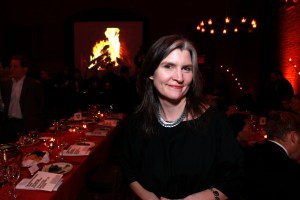 Though it has only been a few months since the 2011 Venice Biennale ended, plans are already well underway for the 2013 edition. Today there's word that Mary Ceruti, executive director and chief curator of the Long Island City nonprofit ScultpureCenter, has been tapped, along with Italian curator Ilaria Bonacossa, to curate the exhibition in Iceland's pavilion, which will feature the work of Katrin Sigurdardottir.
Ms. Sigurdardottir, whose work often takes the form of intricate decorative art- and architecture-inflected installations and sculptures, has shown in New York previously in a one-person show at the Metropolitan Museum of Art in 2010 and a two-venue show at Greenberg van Doren and its sister gallery Eleven Rivington in 2009. She has shows coming up at Meessen De Clerq, Brussels, in March, and Eleven Rivington in the fall.
Earlier this month, the Venice Biennale announced that New Museum associate director Massimiliano Gioni will curate the main exhibition at the biennale.