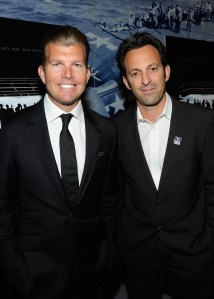 One ad stuck out during this year's Super Bowl broadcast, for its message of patriotism, shared sacrifice and faith in American exceptionalism—and it wasn't Clint Eastwood's Chrysler spot.
The spot began with a pregnant woman, framed by a playpen and on the phone, asking an unseen person to "Be safe." A man on what appears to be an aircraft carrier replied, "You know I will."
It was a military recruitment commercial.
The legend "On February 24th" appears onscreen, as Eminem's "Not Afraid" scores footage of enlisted men skydiving, deep-sea diving, and shooting in a desert.  "We all have something worth fighting for," intones a narrator as a man kisses a woman while a towheaded child rests on his shoulder and the legend "FAMILY" appears onscreen. More footage—a fighter dropping through a glass ceiling, a military funeral, a bomb exploding, many a handshake—is intercut with legends reading "HONOR," "FREEDOM," and "A MOTION PICTURE EVENT."
Wait, it was a feature film trailer.
The final legend in the ad for the upcoming film Act of Valor reads "STARRING ACTIVE DUTY NAVY SEALS," the ultimate vérité touch in a trailer that blends the glossiness of movie production with the studious realness of war in exactly the fashion of the old "Army of One" ads.
"It was a really high-profile place to tell our story," said Terry Curtin, President of Theatrical Marketing at the film's distributor Relativity Media, of the Super Bowl ad buy. (Act of Valor was featured in four ads on Super Bowl Sunday, including one during the game.) "We have a film that we know—while it has no stars—the experience of seeing this film is a big, broad, satisfying experience. We wanted to link that up. It means something when you're at the Super Bowl."
Act of Valor, in all its particulars, is perfectly congruent with the Super Bowl—it is a film of Big Ideas about masculinity and brotherhood, in which the military seems as elite and as fun as the Giants offensive line. What it means to be a man is pondered at length. The SEALs, essentially playing themselves, refer to their sort as "damn few." One character says, in an irony-free voiceover, that his father read "Churchill, Faulkner, and books about Tecumseh"; another chews a toothpick while surfing. Men!
The film's four-year production process means that it was undertaken at a time when the military was still looking to recruit new soldiers—and the film was intended to be a part of that process. The San Francisco Chronicle, in 2011, described the process by which a Navy SEAL was tasked that project: Duncan Smith, who had been involved in television production in his extra-military life, "conceived of a feature film that would more deeply convey the reality of SEAL life." Military.com describes the film as "the end result of a recruiting initiative." Capt. Smith solicited proposals from various studios, and the Bandito Brothers—a collective that had previously produced commercials and sports documentaries—won out. (Relativity Media acquired the film once it had been completed.)
At the film's premiere on the U.S.S. Intrepid, Capt. Smith told The Observer, "Back when this project began, we had to grow by 500 SEALs. Well, no one gets talked into being a SEAL. You don't get recruited into it. You have to be aware of the opportunity. And certain young men will [see the film and] say, 'Hey, that's for me. I'm going to try that. I think I've got what it takes."
It turns out that Act of Valor, which opens tomorrow, is both a military recruitment tool and a feature film.
Casting active-duty SEALS bridged the gap between the two. Speaking of the eight in the film—who are not credited under their full names and whose participation has raised some hackles in the military community—Capt. Smith said: "All these men said no when first asked to do this. Everybody who's in this film is a combat operator. The guys who are in this movie said, 'I'm not part of being this movie. I'm part of being in a field platoon.' So we went to them a second and third time."
The Navy, per Capt. Smith, also exerted pressure on the men, whom Capt. Smith had selected on the basis of their combat records and unique skills. Not merely were the SEALs not paid for their filming time, but their work in Act of Valor was set up so as not to interfere with their training. What you see onscreen are what co-director Mike "Mouse" McCoy calls "augmented training evolutions."
The film comes out at an interesting time for the SEAL program: in the aftermath of Osama bin Laden's death, the profile of the Navy's special ops force has never been higher. Tina Brown's nose for buzz landed the SEALs on the most recent Newsweek cover; the accompanying story alleges that the SEALs serve as a sort of secret global enforcement squad for President Obama. No less a light than Tom Hanks is to star in a film depicting the SEAL rescue of the Maersk Alabama container ship. And after the Presidential election, Kathryn Bigelow is to release her Seal Team Six drama, Kill Bin Laden, a film that Rep. Peter King has already denounced on his suspicion of classified leaks from the Obama Administration to the director of The Hurt Locker.
While the coastal cultural elites have been tuning into Showtime's Homeland—a film that equates the war on terror with its warrior protagonist's quite literal madness—and the heartland has been saluting the sacrifice of Lifetime's Army Wives, no films have depicted the military and managed to make money. Even a film as critically beloved as The Hurt Locker made only $17 million in America, and similarly dour films (Jarhead, Lions for Lambs, In the Valley of Elah) bombed hard.