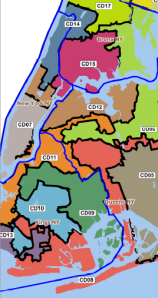 Pushing the judge's deadline to the very edge, the Republican-controlled State Senate and Democrat-dominated State Assembly just released their Congressional proposals tonight, which you can view below.
Because these maps are independent of one another, they aren't as significant as they appear and might not be indicative of where the lines would lie for a compromise map between the two partisan bodies. Additionally, overly partisan gerrymanders are of limited use to the courts as they consider the many proposed options.
Due to New York's relative population loss, the state is required to shed two of its Congressional Districts. And, as expected, the Republican map only eliminates Democratic-held districts: one in Nassau County and retiring Congressman Maurice Hinchey's Upstate seat. Harlem Congressman Charlie Rangel's district is also reconfigured to create a majority-Latino seat by combining with parts of the Bronx.
Both GOP Congressmen from New York City, Bob Turner and Michael Grimm, see their districts substantially strengthened in the Republican map as well.
The Democratic plan also eliminates Mr. Hinchey's district while simultaneously eliminating Mr. Turner's and possibly a Nassau County seat too. Overall, the map seems a tad less partisan than the Senate one, as it doesn't necessarily go for every opportunity to make swing districts more Democratic, at least in New York City.
View the new maps below or click here to view a larger version of the Senate GOP's proposal or here to view the Assembly Democrats' map for New York City.
(Additional maps and documents can be found here.)
Senate Gop Map
Defendant AssemblyMaj NYC Map 11X17
Updated: 7:44am with additional thoughts