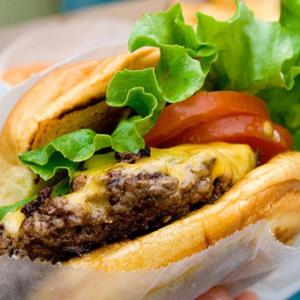 Some might say this is long overdue. Others may call it heresy. One thing is certain: Nobody quite expected the storied and lofty perch from which the chief New York Times dining critic sits, being used to evaluate a fast food restaurant. Even if that fast food restaurant is one of New York City's most ballyhooed and fiercely debated—if not, the most of those—Shake Shack.
Yes, Pete "The Punisher" Wells has focused his sights on the most humble entry in restauranteur Danny Meyer's kingdom, and also by far and away his most profitable. Usually restaurants like Shake Shack are relegated to the '$25 and Under' column of the Times that doesn't give starred-reviews to restaurants.
Yet, with Shake Shacks now all over the city—and world—maybe it was high time for the ShackBurger to get mapped by stars, as well as earn a serious critical appraisal long-removed from the various cycles of hype it has endured (which goes without mentioning the endless debate of Shake Shack's merits against those of its supposed west coast counterpart, In-N-Out Burger). But fans of the 'Shack, take note: If this is what you wished for, you got it. Because—while the shakes were hailed—Pete Wells slammed the burgers for inconsistency.
How the burger could change lives I never divined, but on occasion it was magnificent, as beefy and flavorful as the outer quarter-inch of a Peter Luger porterhouse. More often, though, the meat was cooked to the color of wet newsprint, inside and out, and salted so meekly that eating it was as satisfying as hearing a friend talk about a burger his cousin ate.
Also, beware the fried potato fetishist:
And you can get better fries just about anywhere…they are pretty awful. Freezing turns them mealy, and no amount of oil or salt can make them taste like the fresh-cut potatoes that are standard issue at some burger joints now.
Ouch. The final count? One star. Also, note the "Reccomended Dishes" portion at the bottom of his review, lined with the subtle nuance some of Shake Shack's food is apparently missing:
RECOMMENDED DISHES Hot dogs, chicken dogs, shakes, frozen custards, concretes, floats, lemonade.
Yes, you read that correctly: Excluded from that list is the ShackBurger. Read not this man the riot act, for he's just doing his job. Knowing Danny Meyer's obsessive commitment to satisfying customers, a serious assessment of the ShackBurger such as this that points to flaws in performance (as opposed to fundmental burger-build) may be the straw that breaks the burger's back, giving the process by which the ShackBurger is assembled a much-needed overhaul.
Or because Danny Meyer's going to continue to rake in cash because it's a burger joint, and maybe a high-profile burger joint, but still a burger joint: nothing will change. After all, you can't expect perfection from every short-order cook at every entry in a worldwide franchise.
Then again, a fast-food joint just got reviewed in the Times. So maybe—at least here—you can.
fkamer@observer.com | @weareyourfek