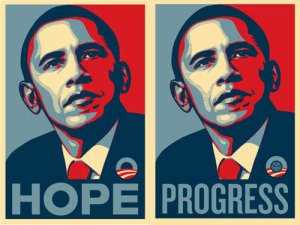 Los Angeles street artist Shepard Fairey plead guilty in a court in New York to one count of criminal contempt for destroying documents, manufacturing evidence and other misconduct in the case that arose around the image of Obama that the artist used in his "Hope" poster, according to the Los Angeles Times.
In February of 2009, the AP claimed that Mr. Fairey violated copyright laws when he based his poster on one of its images. The artist responded by filing a lawsuit for a declaratory judgment against the AP, asserting that he was protected by fair use. He also claimed that he used a different image. Ultimately, the artist admitted to destroying documents in 2009 in the civil suit. That suit was settled out of court in 2011.
Mr. Fairey faces a maximum sentence of a $5,000 fine and six months in prison.