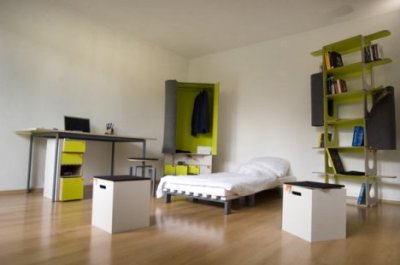 "This is an incredible thing. It's new. No human society in all of history has organized life in this way," enthused NYU sociology professor Eric Klinenberg. He had met The Observer at Jacques Torres in Hudson Square to discuss his new book, Going Solo, which investigates what Mr. Klinenberg sees as a desire of a large number of people to live alone. In the book he coins the term "singleton" for this supposed emerging group—take that, BoBos!—and he calls Manhattan "the capital of singletons."
"The typical New Yorker gets married after 30 these days," said Mr. Klinenberg, "and they have children even later. We had a huge number of years where we used to live with other people. Now we're free to do what we want to do." In his book, Mr. Klinenberg cites numerous statistics over the past 50 years that do show a gradual shift in this direction, from the standard (expected) nuclear family to the rise of what he calls "the cult of the individual."
"Most people we interviewed said that after a few years of living with roommates they are ready for a place of their own." Mr. Klinenberg said. He has a whole host of reasons why: "Roommates who don't pay rent on time, roommates who don't like the person you are dating …" etc., etc.
The idea of the New York loner is as old as the city itself. Look no further than the solemn, solitary Statue of Liberty. But recent trends actually point away from a city of "singletons," not toward one.
In recent years, as housing prices have skyrocketed, it has made it harder and harder for singletons to afford their own space. Meanwhile, gentrification and reverse white flight have made more and more middle class couples decide to start families in the city. This has led to a concerted trend on the part of developers to build bigger apartments and more of them, often with two to four bedrooms, rather than the one-bedrooms and studios that used to dominate. The trend is the same for poorer New Yorkers, be they multigenerational minorities in the South Bronx or struggling creative types in Greenpoint who must double- and triple-up just to find space in the city's outer-lying districts.
Consider the example of 607 Hudson Street, a former senior center in Greenwich Village. Once home to 200 rooms for the elderly, it is undergoing conversion into 10 massive multiroom condos, all costing millions of dollars—perfect for a banker or actor and his burgeoning brood.
"I know that development," Mr. Klinenberg said of 607 Hudson. "You're saying they are family housing, but I think some singles will move into them." Really? "This is a city of incredible concentrated wealth, so people who can afford to live alone here are people who are doing well in the marketplace." But this is just his hunch.
"There are a lot of people trying to find that trophy apartment, but I personally don't get the sense that people have a desire to live alone," said Gary Malin, president of brokerage Citi Habitat. He did say it was possible particular kinds of clients might be buying these apartments for themselves, thought it was not whom Mr. Klinenberg might have in mind. "A lot of overseas people buy a property as a stop-off place," he said.
That's Mr. or Ms. Russian oil-rich czar, but what about Mr. or Ms. 30-something professional? "There has been a trend that people no longer want to move to the suburbs like they used to," Mr. Malin said, "people who were living in Manhattan and single now aren't as willing to move to the suburbs like before, and developers are trying to cater to these, and trying to find them bigger places."
The U.S. Census Bureau shows an almost insignificant increase of 0.1 percent, from 2000 to 2010, of those living on their own in New York City. This is not to say that Mr. Klinenberg is wrong, just that he is not right right now: from 1980 to 1990, the rate of singletons grew 6.5 percent. Things are disproportionately female, as any Sex in the City fan could tell you, where women (18.5 percent) out number men (13.5 percent) living alone in New York.
"If personal income was flat over the decade, and housing prices, adjusted for inflation, were not flat, that means affordability went down, so you likely have fewer people living alone," said Jonathan Miller, the real estate state guru behind appraisal firm Miller Samuel. "It's not uncommon, but as it gets more expensive, you have more doubling up."
According to Mr. Miller's statistics, the number of one-bedroom apartments has held steady for the past decade, falling from 36 to 35 percent of Manhattan's housing stock. Studios, however, a product of the 1980s and '90s booms, have fallen from 18 percent to 15 percent of the housing stock. Two-bedrooms have dipped, from 41 percent to about 36 percent in the past few years, perhaps underscoring Mr. Klinenberg's point. But the really hot properties are the biggest. Three bedrooms have gone from 4 percent a decade ago to 10 percent and four bedrooms from 1.5 percent to 3 percent.
Just look at all the townhouses that had been cut up after World War II, with eight studios, two to a floor. They have since been converted by the wealthy back into expansive single-family homes, full of boarding school-bound youths.
"There is a huge mismatch between how people are living and what types of housing are available," said Sarah Watson, an analyst at the Citizens Housing and Planning Commission. She cites developers, building to match what government regulations urge, as the reason for a big housing discrepancy. "It's not necessarily the market's fault. Look at the government—it clearly prioritizes the 1950's idea of the family."
So, are the days of the bachelor pad over? Mr. Klinenberg remained adamant that they are not. "Developers are continuing to build for singles," said Mr. Klinenberg, ignoring the fact that they are doing so less frequently. "The new Related building, MiMA at 42nd and 10th, is disproportionately single—around the 55 percent mark for single occupants." Mr. Klinenberg also cited the Frank Gehry tower on Spruce Street as an enclave of singles. But might there have been even more single units in the past? He could not say.
"I don't think it's about people having a right to live alone," Mr. Klinenberg continued, "but developers are not turning away singles, singles who are willing to pay the rent. These people exist and the city is not discriminating against them."
If only you can afford it, that 10-by-10 urban oasis is still within reach.
sduffy@observer.com