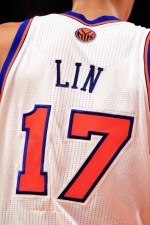 After a press conference announcing a dean for the city's new tech campus, Mayor Michael Bloomberg fielded multiple questions about his enthusiasm level for New York Knicks sensation, Jeremy Lin.
Mr. Bloomberg was hardly enthusiastic when asked whether he's in the throes of the famous "Linsanity" gripping fans throughout the five boroughs.
"Do not own a sports team, that's my only advice," he concluded after comparing the Knicks most recent records to the Nets'.
The same reporter persistently asked Mr. Bloomberg about Linsanity later in the press conference. As she threw out the question for the second time, Mr. Bloomberg playfully quipped, "Way to go."
"I listen to Bloomberg radio in the morning and I have a smile on my face when I hear the Knicks won and I think it's great that he's one of the members of the team," he responded. "He's the star at the moment, everybody's attention is at him. But there's a whole team of players and they all have to participate for the team to win."
He also took exception to some of the hysteria surrounding Mr. Lin in the media.
"The thing I found the most strange is some sports column that said 'He came out of nowhere,'" Mr. Bloomberg finally stated. "If Harvard University is 'nowhere' in this country, we have a really big problem."
Watch Mr. Bloomberg reflect on Linsanity below: