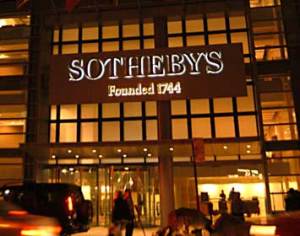 It was a good year for the publicly traded Sotheby's auction house, its press reps announced today, reporting income of $171.4 million, a number higher than any other year with the exception of 2007, when it earned $213.1 million.
Here are some other facts that Sotheby's included in its release:
— 793 lots made more than $1 million on the block;
— 112 lots made more than $5 million;
— 38 lots made more than $10 million; and
— private sales jumped a remarkable 65 percent, to $814.6 million.
Sotheby's is currently engaged in a labor dispute with its unionized art handlers. More on that here.
After being battered for stretches last year, Sotheby's stock price is up a sporty 37.9 percent so far in 2012.