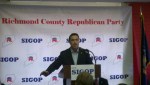 Yesterday afternoon, Staten Island Republicans used the opening of their new headquarters to rally around embattled Congressman Michael Grimm, who has been fighting off serious allegations of illegal fundraising raised by The New York Times a couple weeks ago.
The head of the Staten Island GOP, Bob Scamardella, gave a particularly fierce defense of Mr. Grimm before a large crowd that included almost every Staten Island Republican elected official.
"Much has been said and written about this man in the last few days, all of it based upon anonymous accusations and allegations of guilt by association. And sure, newspaper stories are attempting to define a man, not by what he is, but by what some liberal reporter hopes we will all stretchingly infer," he pronounced. "We will not make that inference, and we will remain united behind him. Because we know what he is."
He joked earlier in the speech that "the press, particularly The New York Times, trip over themselves to make your life easier."
When Mr. Grimm took the stage, he also had some less than fond words for the publication.
"I gotta tell you a cute little story. You know I have the little dog Sebastian, right? Street name Mugsy. He's here somewhere. Well, Friday, I'm getting ready to leave Washington to come back," he began as Sebastian gave a timely bark from outside. "He sneaks around the couch in my office and he goes behind the desk where the staff can't see him, and he leaps with his fangs out and tries to bite the mailman right on the butt … I tell my staff, 'It's okay, Sebastian thought he was delivering The New York Times!'"
As the crowd laughed, Mr. Grimm transitioned to a passionate speech that connected his character as a veteran to his character in Congress, using his recent efforts on behalf of an American-born woman trapped in Yemen as an anecdote to demonstrate his devotion to public service was still alive and kicking.
Not everyone in that area of Staten Island was completely in support of Mr. Grimm, however. Outside, a handful of Democrats waving signs held a significantly smaller counter-rally. Upon leaving the event, one protester jokingly asked The Politicker if anyone had seen him take any bribes during the speech.
Watch Mr. Grimm's speech and parts of Mr. Scarmadella's introduction below: