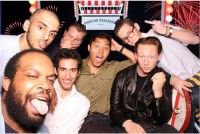 The point at which the traditionally-unfashionable-overcompensating-men-obsessed-with-menswear trend seemingly reached fever pitch was in December, when GQ's website published an "Oral History of Menswear Blogging." The genre, seemingly a construct of a parody blog, is the furthest thing from it.
The article's participants and their self-serious tones inspired their own parodies. How could they not? Fuck Yeah Menswear to A Continuous Lean to Selectism and Valet and back, what was once a niche sub-genre of editorial output usually relegated to the front-of-book features of lad mags is now its own full-on genre of reading and writing glorified shopping catalogs for men. And not just men, but Men Who Traditionally Have Not Openly Embraced Fashion.
And now, the numbers exist to prove it. Menswear is back. Straight menswear, that is.
Stephanie Clifford at the New York Times reports today that men's clothing sales for the first three months of 2012 will hit a 20-year high.
In order to make this happen, euphemisms have been employed…
To get traditional women's accessories to appeal to men, some designers are giving them manly names and styles. That's not really a bracelet; it's wristwear. And that's not a purse, nor the dreaded murse, but a holdall.
And oh, there will be "wristwear." Yes, there will:
"Bracelets are on fire right now," said Tim Bess, who analyzes men's fashions for the Doneger Group, a trend forecaster. "I'd say it's the No. 1 look for the young man." Tateossian, a London-based jewelry designer, says sales of its men's bracelets rose 30 percent in 2011.
And yet, still, despite all of this, there seems to be something unspoken about the re-emergence of men's fashion, which might be worth speaking:
The word "straight."
As in, the quote-unquote "menswear" fashion trend is primarily a euphemism in and of itself for "straight men and the clothing they buy."
After all, it would be obtuse to suggest that an entire men's fashion sub-sect has remained under the radar and out of clothing stores for the recession that men supposedly weren't shopping, let alone the last 20 years.
For example:
"It doesn't look like you borrowed it from your girlfriend," Nicolas Travis, 24, a business school student who runs the blog Style Flavors, said of the manned-up styles he prefers. "A little bit more bling, and you run the risk of it looking a bit more feminine."
Who has problems appearing feminine and concerns about appearing as if they borrowed something from a girlfriend? Straight men. "Dudes." "Guys." Whatever you want to call them. But it's time to face the fabric:
The entire "menswear" blogging trend is a very politically correct misnomer suggesting that all men are finally discovering fashion for the first time since the loin cloth, which simply isn't true. An entire male population—that is, gay men—have been openly embracing fashion without any insecurity as to how feminine it makes them appear, who they borrowed it from, or what kind of heritage sourcing went into its construction.
It's been well-documented that gay consumers and their spending habits are "recession–proof."
A perfect corollary to this and the straight-menswear trend would be the "coming out" of the recession closet for straight men who want to buy clothing. Which exists:
The rebound in shopping may also reflect an improved jobs picture for men, who were hit disproportionately over the recession. The gap between men's and women's employment rates was about as high as it had ever been as the recovery started in June 2009. Only last month did the men's and women's unemployment rates reach the same level.
Time to call The "Menswear" Trend what it is: The Straight-Menswear Trend. To remove euphemisms from an entire art form and consumer market is a long overdue etymological evolution that, until corrected, makes the straight men who buy clothing, the people who make them, and the people who read about them appear as insecure and overcompensating in their masculinity as, well, before they apparently started buying clothing.
Men Step Out of the Recession, Bag on Hip, Bracelet on Wrist [NYT]
fkamer@observer.com | @weareyourfek