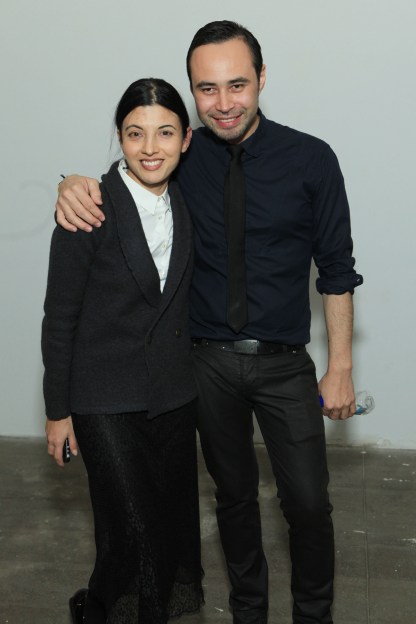 Julie Ragolia has seen more stars in their skivvies than you could dream of! After sinking her teeth at MTV and a slew of glossies eons ago, she moved up the nasty and competitive ladder of fashion editorial… These days, she serves as the fashion editor of 7th Man Magazine and styles mega-stars, such as Rihanna and Sean Combs. Despite his Napoleon complex, street photo Scott Schuman even made her the cover girl of his treasured tome, The Satorialist. The Observer tried to find out if she gets to sleep with any celebs and what exactly stylists do aside from playing with clothes and acting bitchy in the Prada showroom…How did you become a stylist?
It just sort of happened, really. I didn't intend to become a stylist, but I guess it was meant to be. A series of steps toward an academic future in philosophy, with a deep concentration on aesthetics, mixed with some youthful curiosity and a story to tell, led me to a very extended study of fashion as an art form, with clothes as my medium.
Fashion week must be chaotic for you– what does this season bring?
This is the most fun chaos. I feel lucky everyday for my job, and styling shows is the icing on the cake. This season I am styling two shows: Carlos Campos, with whom I have been collaborating for four seasons now, and TheGreenShow. TheGreenShow is especially exciting for me, as it's the first time designers working in a decidedly conscious, ethical manner are showing at the tents. It's a group show of 8 women's designers, including United Bamboo, who are creating beautiful clothes in consideration of such things as environment, fair working conditions, artisan craft and local production. Hopefully this show will take some of the stigma out of terms like "eco" or "bio", so that such considerations are no longer even a part of our thinking…they just are.
Being a stylist isn't all parties and glamour—what do people not understand about the gig?
That it's a lot of work! You're right, it's not all parties and glamour; it's consideration, and research, and a deep, constant study of the craft, not to mention keeping on top of art, music and all things political in order to keep viewpoints continually fresh and interesting. And sometimes there's a lot of stuff to lug around. Being a stylist is my gym.
What designers inspire you? Who is hot in your mind right now?
I'm inspired by so many designers, but season after season I always come back to Raf Simons and Dries van Noten as inspirations. Both capture the ability to be loud and quiet at once. It's an immense skill, and something I always try to achieve in my styling work.
What's your most awful experience as a stylist? What's stressful?
I'd  be lying if I said I never had an awful experience as a stylist, but they're so few and far between that it's not even worth mentioning. I'm really grateful to be able to tell stories with clothes, and so appreciative that people like what I do that, even if there is a bad moment, I know there will be just as equal a good one to follow. In terms of stress, I think the only real stresses are those I place on myself to always do better, to hit harder. And customs issues at crunch time.
If you had a dream offer to style—who would it be?
That's a hard one! I've styled quite a few from my dream list already…I saw David Beckham in his underwear before he was on the side of H&M bags. I'd love to style someone like Tilda Swinton, who has such powerful presence. She has such distinct style unto herself, that it would be an intimidating but fun challenge. I did tweet recently that I would love to tweak Drake's style. He has so much potential.
Where has the market developed for stylists?
Media has opened the door for stylists to have a greater public presence beyond fashion. We star in commercials, we host events, we collaborate with brands, etc. And as we ourselves become a brand, our images compel some of us to the level of celebrity. It's a crazy phenomenon, really.
What are your social plans? Any good after parties?
I haven't been to Le Baron yet since it opened, even though it's just near my apartment! I'm horrible about going out in the winter, but am looking forward to fashion week pulling me out of my hibernation. I'm also looking forward to celebrating Anna Bauer's book, Backstage, at the New Museum.
Where does a stylist shop?
I think it's more about how a stylist shops, to which I would answer, "unintentionally." I never really go out of my way to shop, but I know I do it because new clothes consistently appear in my closet. I do still get giddy every time I walk through Barney's though.
What sucks about fashion?
If anything, that some of the emphasis has shifted to popularity over content or talent with the infiltration of bloggers or personalities into every aspect of the industry. I'll forever stay a stickler to the analytical thinking of great fashion journalists like Cathy Horyn, Tim Blanks and the likes, as opposed to personal opinions in quips, or anecdotal self-dressing.