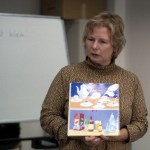 The details have emerged on the long-awaited deal between the teachers union and the state government for how to handle teacher evaluations, a decision the state said is necessary to secure $700 million in federal dollars. The new system will use 60% of a teacher's score based on "rigorous performance measures" and 40% based on "student achievement in state and local assessments." The deal also streamlines the appeals process for teachers.
New York State and City's top politicians quickly sent out a barrage of press releases applauding the decision, with the occasional swipe at Mayor Michael Bloomberg over school closures.
"Today's agreement puts in place a groundbreaking new statewide teacher evaluation system that will put students first and make New York a national leader in holding teachers accountable for student achievement," Governor Cuomo said in his press release. "This agreement is exactly what is needed to transform our state's public education system, and I am pleased that by working together and putting the needs of students ahead of politics we were able to reach this agreement."
Mayor Bloomberg, who was mum on the details of the agreement during his press conference this earlier afternoon, joined the praise in his own statement:
"This is very good news for the 1.1 million school children of New York City – and it will benefit students for generations to come. It will help us to create a rigorous and comprehensive evaluation system that will ensure that teachers who are rated 'ineffective' can be given the support they need to grow — or be moved out of the classroom. I want to thank the Governor for his leadership on this issue, as well as Merryl Tisch, John King, and Mike Mulgrew, who were all instrumental in this process."
City Council Speaker Christine Quinn was similarly happy:
"We applaud Governor Cuomo, Mayor Bloomberg, the New York State United Teachers, and the United Federation of Teachers for making our students the priority and continuing to work together to ensure that the City qualifies for the 4 percent increase in state education aid. We can't have great schools without high quality teachers. Working together, we can make sure our teachers have the support they need to do what they do best – educate our children."
As was Assembly Speaker Shelly Silver, who praised the decision but called on Mayor Bloomberg to halt the school closures:
Earlier this year, I called on the Governor to intervene to help settle the statewide teacher evaluation issue, and I am grateful that he has stepped in to help bring this to a conclusion. Today's announcement reflects a successful compromise by all parties involved and allows us to move forward in making our schools the best they can be. The original intent of the 2010 law that led to New York's Race to the Top award can now be fulfilled.

I remain hopeful that we can avoid schools closures in New York City, which continues to be a bargaining issue between the Mayor and the United Federation of Teachers, since overcrowding is already a chronic problem in our public school system.
Public Advocate Bill de Blasio echoed Mr. Silver's feelings about both the decision and Mr. Bloomberg:
"Governor Cuomo has brokered a historic agreement with the United Federation of Teachers and New York State United Teachers that puts our children's education first. Once again we have proof that dialogue and good-faith negotiating deliver far more than posturing and threats ever could. The deal reached today preserves vital federal funding for struggling schools across the city and state, and puts in place a long-overdue system to fairly evaluate teachers. This agreement erases the Bloomberg Administration's flawed rationale for closing 33 schools and firing half of their teachers—a plan intended as a threat to wring concessions from the UFT. The Mayor must immediately halt those plans and recognize that today's historic announcement deserves the City's complete support."
And last, but not least, the President of the United Federation of Teachers, Michael Mulgrew, shared Mr. de Blasio's and Mr. Silver's concerns:
"The UFT and the Governor have reached an agreement on an appeal process for New York City teachers that includes the kind of independent, third party component that the UFT has been seeking … I want to thank the Governor for his efforts to find a similar resolution for the issues that separate the UFT and Mayor Bloomberg. Chancellor Walcott's asserted that the city needed to close 33 SIG schools because there was no agreement possible on an appeals process for teachers. That process has now been laid out for the SIG schools. Despite this agreement, Mayor Bloomberg still seems determined to close those schools."