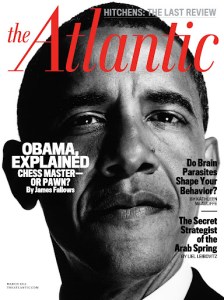 Last night Atlantic Media chairman David Bradley had a couple dozen of New York's non-fashion elite to dinner at Eleven Madison Park, kicking off a new monthly series that aims to capture the engagement with Atlantic cover stories demonstrated online by Facebook recommendations in a more intimate, in-person format.
Unlike the ill-fated salons proposed by The Washington Post in 2009, lobbyists can't buy a seat at these off-the-record dinners; The Atlantic picked up the tab. The aim of the series, which may move to Los Angeles, Chicago, Silicon Valley, or Washington, D.C., depending on the cover story's content, appears more earnest.
"This developed as an extension of The Atlantic's mission from its outset, to be a proponent of the American idea," publisher Jay Lauf told Off The Record. "We're trying to put our money where our mouth is, raising controversial questions and fostering conversations."
Like a comments section, but better dressed.
Atlantic editor James Bennet and James Fallows, author of the March's cover story, "Obama, Explained," broke bread with their competitors from New York's print political media, including The New Yorker's Nicholas Lemann, New York's John Heilemann, and Time's Mark Halperin.
They were joined by Hollywood types Black Swan director Darren Aronofsky and actor Alec Baldwin; captains of industry like Mercedez Benz USA CEO Stephen Cannon and Eagle Capital managing director Boykin Curry; and the category-defying Arianna Huffington, who could only stay for cocktails.
"Some of the people we invite may change the way we look at those cover stories going forward on the web, or they may have more ideas on those cover stories that may be useful to the national dialogue," Mr. Lauf explained.
Whom did Mr. Lauf look forward to exchanging American ideas with?
"I follow Alec Baldwin on Twitter," Mr. Lauf said, "So he's someone I think might always say something interesting."