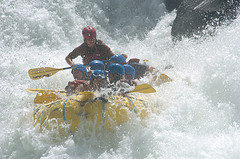 The N.Y.P.D.'s monitoring of Muslim students not only extended far beyond New York, the department even sent an intrepid undercover operative on a whitewater rafting trip just to gather intelligence. The Associated Press reports the N.Y.P.D. tracked and monitored Muslim students at various universities, including Yale. The intelligence efforts also extended to the Web:
Detectives trawled Muslim student websites every day and, although professors and students hadn't been accused of wrongdoing, their names were recorded in reports prepared for Police Commissioner Raymond Kelly.
N.Y.P.D. spokesman Paul Browne explained the measures by pointing out to the A.P. that at least 12 people who have been picked up on terrorism charges were at one time in Muslim student associations. It was unclear how many were also whitewater rafting devotees.