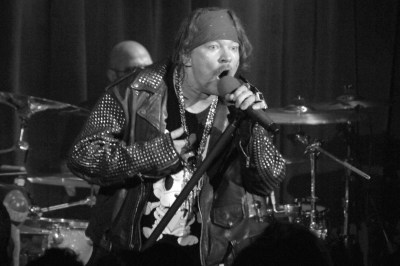 In celebration of the long desired end of Fashion Week, DeLeon Tequila and Nur Khan hosted what would be the last of their fabled Electric Sessions last night at the Hiro Ballroom (which, for the record, is still open) with Guns n' Roses.
The Observer plays the waiting game.
Doors at 9 p.m., we pop in around 10:30 hoping to dodge most of the wait for what was rumored to be an 11 p.m. start time. Seems like a decent idea, right?
11:15 hits and we bump into a few friends who had just left the temporary palatial penthouse home of Axl Rose at The SoHo Grand Hotel: "Yeah man, we were just over there and literally 10 minutes ago they ordered a ton of room service." This did not bode well for a packed house hungry for high school rock.
We spot a glowing Sienna Miller holding court with boyfriend and baby daddy Tom Sturridge, and can't help but think that dude should lock it down.
Olivia Wilde and Jason Sudeikis host an impeccably attractive table in the slightly grungy Hiro.
Even Jared Leto seemed a bit confused as to where the rock band was hiding.
Checking in with Tyler Winklevoss. We both immediately realize how bratty we feel when we grumble about waiting around for a free GnR show.
Wanting to get the real school, we shoot Nur a text, who is quick to inform The Observer that Axl is in fact slated to go on at 12:15, and relief washes over us like an awesome wave.
A bit more mulling about, and we see Nur take the stage.
"Yo, shit, that's Nur dude! They're totally about to come on!" remarks a hyper observant party-goer.
In the corner of our eye we spot Justin Timberlake and Matt Damon stopping to strike a pose in front of the camera. Both card-carrying members of the way-more-famous-than-you club.
Ok, wait. Something's happening – the lights are dimming, cigarettes ritualistically lighting up, the slow rolling "unnnghhhhhhhhhh" of a bass guitar being flicked on.
There he is. Axl Rose himself. Handlebar moustache in full effect: "How are you tonight, fucktards!?!" he asks politely before launching into his first song, 'You're Crazy.'
We notice a tweet from a colleague a few hordes of people away: "Holy shit, Axl Rose still has it." And he did, in fact, still have it.
Warm up out of the way, Axl takes the microphone to his lips, stares deep into each and everyone's soul, and posits the question: "Do you know where you are?" We were in the jungle, baby.