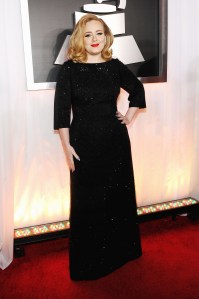 Tonight's Grammys are to feature a tribute to Whitney Houston and a comeback-from-surgery performance by heavily-favored multiple nominee Adele. We'll be watching closely to see if the British chanteuse can claim Record, Song, and Album of the Year–or if other big nominees like Bon Iver (for the song "Holocene") and Foo Fighters (for the album Wasting Light) can beat her out–though we may flip the channel when Chris Brown performs.
11:19. After another so, so-long commercial break, Diana Ross presents Album of the Year to Adele, who's crying and shouting out her mom and mentioning the "rubbish relationship" that inspired 21. Paul McCartney is said to be performing next but we're going to bed!
11:12. Adele's speeches have all been charming, brief, and gracious–she's like a model for how to accept an award you know you're going to win (which is always such a fraught thing).
11:10. Last year's Record of the Year winners Lady Antebellem present this year's award to an act without any slavery nostalgia in her name, Adele, for "Rolling in the Deep."
11:08. As much as her year was not as amazing as past years in her career, Lady Gaga is, I guess, pretty influential. This mess doesn't happen without her making it "okay." And, of course, the Opus Dei/exorcism stuff is a blatant swagger-jack from Madonna circa 1989.
11:07. Nicki Minaj does not seem to be lip-synching, per se, but some of the verses in the first minute of her performances were magically completed absent movement of the mouth.
11:06. Oh, okay, this whole thing is an Exorcist short film. I'm surprised they gave Minaj this much screentime and leeway?
11:05. Nicki Minaj redeems her sadness over losing Best New Artist by doing an apparent exorcism-themed "Roman's Revenge" takeoff, mashed-up with "I Feel Pretty."
10:57. Maybe television is not the best medium to watch a D.J.
10:55. There are so many musicians not performing at the Grammys that a second go-round for Chris Brown AND the Foo Fighters seems very odd.
10:52. I think I sat behind David Guetta on a Greyhound bus, unless it was the transient who looks just like him!
10:50. ?uestlove is presenting a tribute to Don Cornelius with LL Cool J, and then we're jump-cutting to some "Nokia dance club" with David Guetta and the Foo Fighters and Chris Brown and glowsticks and if this show is keeping me awake how am I having a nightmare.
10:45. Okay, that was really good–something that would have been too similar to Whitney Houston's performance would have been uncanny, and this was utterly tasteful and great. Too bad there's not a similar tribute to be launched in Amy Winehouse's honor but one cannot have everything.
10:43. Jennifer Hudson is less hit-you-like-a-truck powerful and goes into the  higher register more than Whitney, but she's clearly super-emotional now.
10:42. Oh, mercy, it's the Jennifer Hudson performance of "I Will Always Love You."
10:34. This speech is the longest of the night and it's just about how Bon Iver hates the Grammys.
10:33. Nicki Minaj IN NO WAY is willing to pretend to be pleased Bon Iver won the Best New Artist prize.
10:32. The pair are singing "It Had To Be You," as your blogger hums along, looking longingly at his bed.
10:30. Carrie Underwood claims that Tony Bennett is her favorite artist of all time, which seems unlikely. The pair are presenting Best New Artist. This crowd gives the MOST standing ovations.
10:20. The Shelton Blake and the Band Perry perform a tribute to the Campbell Glen.
10:10. Adele gets a long standing ovation, capped by a reaction shot of Rihanna holding her temples.
10:08. My favorite Grammy sweeps by ladies in the past, in order: Beyoncé (early-2000s), Lauryn Hill, Beyoncé (early-2010s), Amy Winehouse.
10:07. Adele's hair looks really, really lovely.
10:05. The possessor of the best voice in the world, Gwyneth Paltrow, introduces the second-best, Adele.
10:03. This CBS commercial is LL Cool J's most significant presence of the past two hours.
9:59. Best Country Album goes to last year's big victors in Record of the Year, Lady Antebellum.
9:57. This song is very designer-impostor Pat Benatar.
9:55. I am still not over how weird and abortive the "E.T." performance was. Was it some sort of symbolic thing about being a girl, interrupted?
9:54. It seemed that the sound mix totally flared out but in fact Katy Perry just migrated to the ceiling in order to sing a new breakup song about Russell Brand?
9:53. Okay, sorry, I like "E.T." way more than Taylor Swift talking in "Mean" about how great her career will be someday, mainly because Katy Perry's performance here, with lasers and a robot suit, is like what a child imagines being a pop star is like.
9:50. Song of the Year goes to Adele and her writing partner for "Rolling in the Deep." She's still chewing gum and gives like a 20-second speech.
9:44. Oh nooo, am I the subject of this song?
9:43. Somewhere, Frances Conroy's looking for the costumes she wore on Six Feet Under and just sees a note reading "I.O.U. one stage outfit –T.S."
9:42. This song is about how Taylor Swift had been criticized by… I think everyone?… after performing shakily with Stevie Nicks at the Grammys a few years back. The ouroboros of Taylor Swift is less interesting than she likely finds it.
9:41. "I just want to be okay again" is still the most therapy-speak lyric of all time.
9:40. It is really quite odd that Taylor Swift's follow-up to an Album of the Year winner didn't get any major nominations tonight, but it was nice of the Grammys to rebuild the garbage pile from Cats for her to dance on.
9:38. Chris says he's nervous and doesn't know what he should do. I hope he doesn't punch the mic stand!
9:36. Common and Taraji P. Henson salute Gil Scott-Heron and present Best R&B album to Chris Brown, who despite being the most famous person in the category by far, is just… okay (so hard, really, not to keep using that word). Thank everyone for not including a Rihanna reaction shot.
9:35. Oh, right, this song is about Nancy Shevell.
9:34. This song about Valentine's Day sounds like a wonderful song for a funeral scene in a film nominated for the Best Foreign Film Oscar.
9:32. Between Paul McCartney and the Beach Boys, tonight there have been a lot of elder statesmen plopped on the stage and seeming just so slightly shaky.
9:31. Stevie Wonder invokes Whitney Houston's name for what feels like the first time in about an hour.
9:26. The commercials during this show are notably musician-centric–e.g. Jennifer Lopez for some fancy speakers, Taylor Swift for Cover Girl–but Wiz Khalifa for Bing feels a little left-field, for so many reasons.
9:23. Oprah is Tweeting during the commercial breaks trying to get people to watch OWN.
9:22. Beach Boyz II Men. This sounds fine but like, at least three people onstage look like they were just forcibly awakened and they're not happy about it.
9:19. The lead singer of Foster the People has really mastered singing right through his nostrils.
9:17. Maroon 5 performs a tribute to the Beach Boys. It's so hard to think of things to say nearly 90 minutes into the Grammys other than just "okay!" over and over.
9:16. Dave Grohl's speech about the human element of music is drowned out by LMFAO and an announcement of Ryan Seacrest's appearance. Oxymorons: they're striking again!
9:14. The Foo Fighters win, which, after Coldplay's lackluster performance (thank God they had Rihanna on hand!) is welcome. It would have been fun if, like, The Decembrists won, just because "who is the arcade fire?" was a fun moment. Dave Grohl says this record was made in a garage and criticizes, implicitly, musicians who work in studios, and yet everyone cheers?
9:12. The "goth," or "indie," or whatever, NCIS star is with two of the New York Giants to present Best Rock Performance.
9:02. Let's play Coldplay/Rihanna's "Princess of China" and the Glenn Close-penned theme to Albert Nobbs back to back and see if the "la la la la la" parts are distinguishable.
9:00. "Make some noise for Whitney" during an onstage dance battle featuring vocals that hit three notes in toto may have, despite our love of Rihanna, have been one of the evening's odder moments.
8:58. After the orchestral, syrupy stuff dropped out, now she's just singing the normal disco version. Having a single go to number-one in Billboard and performing it competently tonight may be Rihanna's revenge against professional steampunk-robot middle-schooler Chris Brown.
8:56. Rihanna and Coldplay perform, but not before the best pop star of the decade, yup, performs a "sadcore" remix of "We Found Love."
8:54. It took the Target ad of a bus of schoolchildren singing "Rolling In the Deep" for me to accept that that song is actually a "new standard," or whatever.
8:51. After that performance, time for ten more minutes of commercials!
8:48. There's so little to say about the performances tonight. Dave Grohl is fine. Fine! But by this time last year we'd had a series of mini-costume dramas, if memory serves. Where is our Cee-Lo and Gwyneth this year? Dare we say it–where are the Grammy moments?
8:38. Jason Aldean and Kelly Clarkson looks like something from the Oscars. To wit: "Billy Crystal's Steampunk-Country Tribute to Hugo"
8:37. Reba McEntire, who looks the same today as she did in 1985, talks up the "Grammy moment" notion that no one has ever considered outside the Staples Center. Duet between Jason Aldean and Kelly Clarkson, whatever.
8:36. The award goes to Jay-Z and Kanye West for "Otis," who are in absentia. 36 minutes in and one acceptance speech!
8:35. Fergie and Marc Anthony are presenting the award for Best Rap Performance–she in a see-through red lance concoction, he in the open white Oxford he's been wearing constantly since the late 1990s.
8:28. The performance of Chris Brown is a good occasion to recall that the Grammys exist in staggeringly large part to promote the record industry's decadent and destructive system of exploitation of youth that ends up taking the lives of so many talented artists.
8:27. All I will say about the apparent culture-wide forgiveness of Chris Brown–who three years ago this weekend brutally beat up his girlfriend, an action for which he has never expressed much more than a "sorry you're mad" perfunctory attitude of penitence alternating with "poor-me" tirades–is astonishment that the artist whose every misdeed America can forgive is one in possession of such a weak, nasal voice. In the same way Jennifer Hudson once won an Oscar for singing, Chris Brown gets nominated for Grammys for jumping on scenery at awards shows.
8:26. Let's work as a society to prevent the "fake mad" reaction shot by an awards loser. Bruno Mars, with your jumping up in frustration whose fakeness itself might be fake, this is me shaming you in public.
8:25. I think Lil Wayne just found out who Adele was."
8:24. Best Pop Solo Performance (which is no longer separated by gender) goes, unsurprisingly, to Adele for "Someone Like You."
8:22. This performance is lovely, though Alicia Keys's front-facing bun will be unfortunately familiar to viewers of last night's Saturday Night Live performances by a band known as Karmin.
8:20. Bonnie Raitt and Alicia Keys are to present an award, but first they are singing in a tribute to Etta James.
8:19. The trailer for The Lorax uses Vampire Weekend! This is the best Grammy moment of the night.
8:16. "Coming up: more Grammy moments you won't want to miss: a performance by Chris Brown…" I am trying to remember what I learned in English class: Is that an oxymoron, a contradiction, or just a misunderstanding of my capacity for forgiveness?
8:15. Okay, FINE, all joking aside, Bruno Mars is probably more charismatic than 95% of the performers will be tonight.
8:13. Bruno Mars, after exhorting the audience to get off their "rich asses," shouted "James Brown" as many times as Bruce Springsteen said "we take care of our own." He's good at splits, though!
8:11. Continuing the theme of overselling the Grammys' importance, Bruno Mars is in an all-gold outfit with a sign about him reading "Live on Stage." We get it, TV show! You are the capital-G Grammys!
8:10. The host is now humorlessly shouting out Adele–tipping the show's hand a bit–and talking about "Grammy moments," a concept which has always seemed a bit overstated with regard to an awards ceremony people watch out of grim duty and February boredom.
8:08. LL Cool J announces that there have been moments in past Grammy ceremonies "we will remember for the rest of our lives," which is, well, I don't think the Grammys themselves are what people who like music remember! That may be overstating their centrality. That said, the clip of Whitney Houston singing "I Will Always Love You" is something else.
8:06. LL Cool J, who is hosting the show for CBS-synergy reasons (he's on the NCIS spinoff), engages the audience in a prayer. Nothing sarcastic to say!
8:05. There were just like eight reaction shots of under-25 pop singers, all of whom are completely encased in crystal.
8:03. Did you hear that? Somewhere in Manhattan, a New York Times editor just assigned a Sunday Review piece in the similarities between this song and Clint Eastwood's Chrysler ad.
8:02. "'We take care of our own' [repeat twelve times]" –sheet music to the chorus of Bruce Springsteen's new song
8:01. Why does Bruce Springsteen get a pass on the old-man earring look while Harrison Ford gets pilloried?
8:00. The show opens with Bruce Springsteen–while they're likely saving the Whitney tribute until later in the evening, this feels a bit random.