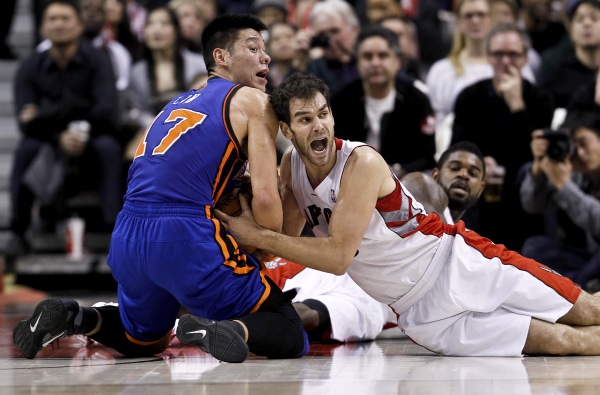 The dispute over licensing fees between Time-Warner Cable and Madison Square Garden Entertainment—which owns the New York Knicks and MSG TV—has blacked out the majority of Knicks coverage for New Yorkers since the beginning of 2012. In January, talks had completely stalled out.
The Observer has now learned that MSG Entertainment chairman James Dolan and Time-Warner Cable chairman Glenn A. Britt finally returned to the negotiating table earlier this week.
A source with intimate knowledge of the talks explained that Mr. Dolan and Mr. Britt "met Monday, and discussions have continued since then." That said, the source explained, "Don't get overly enthusiastic about it. The talks have yet to yield anything fruitful."
Regarding the renewed talks, representatives for Time-Warner declined to comment, and representatives for MSG have yet to return a request for comment. In this situation, however, some news is better than no news.
There's been no indication on who returned to the table first, but to call MSG's motivation to return to the table "renewed" would be to wrongly assume they had that much motivation to be there to begin with.
As the company held out through January, their stock ticker kept rising. Now that Jeremy Lin has exploded as an international sensation, what difference could Time-Warner's 2.8 million subscribers in New York City do for the network?
Quite a bit, actually. New York City is one of the most affluent sports markets in the country, and the MSG Network—whose stock has shot up since the Linsanity sensation started—could ratchet up advertiser fees with the renewed interest in the network's star franchise, which is to say nothing of Time-Warner's subscriber fees paid to MSG from each customer that they're still missing on their balance sheets.
Time-Warner's incentive to return to the negotiating table may be less urgent than MSG's. There aren't any readily available loss rates, but the idea of customers going through the pain of switching cable providers en masse to see one channel for one player on one NBA team—even if it is the market's home team—isn't very likely, and if it is, it likely wouldn't represent a majority mass of Time Warner's subscribers so much as supremely annoyed, die-hard Knicks fans. Even then, they'd have some hurdles to climb over, like happening to live in a building equipped for Verizon FIOS (not all of them are) or a south-facing wall they can use to mount something on (like, say, a DirectTV dish).
Linsanity isn't likely to go away any time soon. Whether or not 2.8 million New Yorkers will be able to participate in it before then remains to be seen. Here's hoping this is a good sign, however, and the first of many to come.
fkamer@observer.com | @weareyourfek