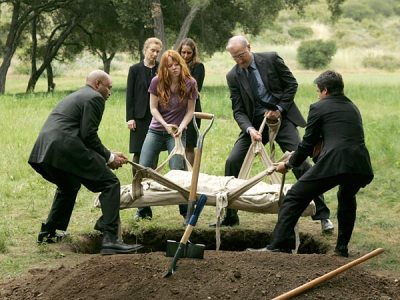 Remember Six Feet Under? At the time of its airing, the show was one of the holy trinity of HBO's ascent, alongside the equally loved Sex and the City and The Sopranos. After a shaky last couple of years, Six Feet Under has been relegated to the bottom of the memory bin, with revisionists claiming that HBO rose to acclaim on the back of The Sopranos and The Wire (which people loved, but which was not a "sensation" at any point).
That's perhaps the problem. Six Feet Under dealt with so many taboos, and so many of those taboos so hamhandedly, that it feels very much like a period piece now, both in the Bush-II-era-liberal preoccupations of its characters and the dramaturgical style of family members shocking one another constantly. That said, we loved Six Feet Under in its initial airing for its "honesty" about how things are, or would be if one were a commitment-phobic mortician with a nightmare family, and we love it now for the way it reminds us that really good art (and we really, REALLY use that word sparingly vis-á-vis television) does not really rely on reputation to move.
Tonight's episode on HBO Signature is one from the rather unfairly maligned fifth season, wherein Nate and Brenda debate the fate of their possibly-disabled unborn baby (more intriguing than the baby plot should be!) and Claire sacrifices that which makes her so Claire-y to embark upon a dully traditional relationship. By season 5, the show had shed its more gothic trappings and become a good opportunity to hang out with recognizable, if occasionally awful, people. It's the kind of TV one remembers and speaks of fondly years later–so watch it if you get this super-premium channel!
Set your DVR for HBO Signature at 8pm.