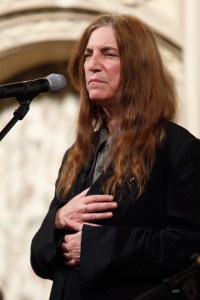 This is your chance to rub elbows with a music legend people. Tonight at The Strand, folk rocker/autobiographer Patti Smith will be talking about her recently reissued 1992 book of poems and life stories, Woolgathering. For only $25, (the price of the book) you earn admission to the event at 7 p.m., along with your very own Strand tote bag.
This is basically a steal, as Strand bags typically go for around $15 if you want to buy them retail, and a chance to listen to Patti Smith read an excerpt of "Indian Rubies" is something you can't put a prince on.
Hopefully, the woman who performs tonight will be more Horses-era Patti Smith and less of Law & Order: Criminal Intent Patti Smith. Consider this video from her January appearance at St. Mark's bookstore a sneak-peak on what to expect.