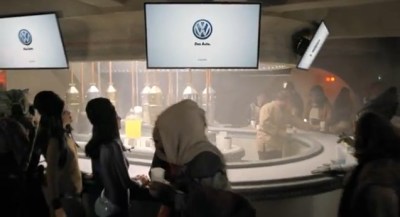 Last year, Volkswagen made waves with its Super Bowl commercial featuring a little kid in a Darth Vader helmet using "the force" to control his dad's car. It was an instant viral hit, and for awhile the boy from that commercial, 6-year-old Max Page was mildly famous.
This year, the same agency behind "The Force" commercial, Deutsch Inc., took the Star Wars theme to a whole other level, with Super Bowl ads that began as videos featuring dogs and then pulled back to reveal something much, much stranger.

The Dog Strikes Back:

While we were waiting for Madonna's half-time show to start, we were only half paying attention when this commercial came on. Since dogs were a huge theme in last night's Super Bowl ads (see also: Doritos, Sketchers ) we didn't think much of it. Then suddenly we were in the Mos Eisley Cantina? What?
Both "The Dog Strikes Back" and VW's other dog/Lucas "teaser" ad, The Bark Side, had been released online mid-January in an effort to drum up buzz.
The Bark Side:

(At least that one made sense!)
But how did Deutsch convince Lucas Films–notoriously willing to sue for trademark infringement at the drop of a helmet–to lend the Star Wars characters out for these bizarre spots?
The New York Observer has reached out to Deutsch Inc., but has not yet received a response. The best answer is that Volkswagen paid Lucas bags of money with dollar signs on them for the rights. And even then, they were still ripping off someone else's idea, as Jalopnik's Matt Hardigree pointed out:
A pair of animators in Portland made their Italian Greyhound "Bones Mello" famous when they dressed him up as an AT-AT last October. So when we saw the Volkswagen Star Wars barking dog Super Bowl commercial preview last night we assumed the pup dressed up as an AT-AT was him. The animators, however, say it's not…

"Essentially, the idea and the origination came from Lucas Films," says Proffit, who added that Volkswagen worked with Lucas Films on the concept.
It's weird that Volkswagon would say that Lucas Films was responsible for the rip-off, when Deutsche admitted to spending six months on the spots; going through approximately 200 ideas before settling on the doggie theme. (We assume most of the ideas were scrapped by Lucas Films, which had the final say.)
This follows in the tradition of VW/Lucas Super Bowl ripoffs: that Darth Vader kid was allegedly taken from a "Sad Vader" photo by Alex Brown featured on 20×200. For a production company so scared of someone stealing their characters' likeness, LucasFilms seemingly has no qualms of using other people's.